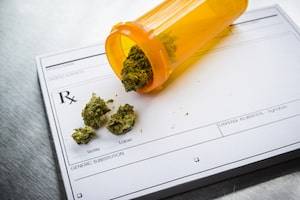 Many states in this country have made medical marijuana legal, and some have also legalized the drug for recreational use. In Wisconsin, marijuana possession is still a crime. However, the state does make some exceptions for those with medical conditions.
To possess marijuana for medical purposes in Wisconsin, the marijuana must be non-psychoactive medical CBD oil. In addition, you must have a letter from your doctor authorizing your use.
History of Medical Marijuana Laws in Wisconsin
In 2014, Wisconsin passed its first version of a medical marijuana law. This law only allowed those with seizure disorders to use marijuana, and the marijuana that was legal was a non-psychoactive version. Under the law, it was also a requirement that patients have a written recommendation from a doctor.
In 2017, the law was changed so that anyone with any medical condition, not just seizure disorders, could possess non-psychoactive marijuana, so long as a doctor recommended it.
Could Change Be Coming?
Governor Tony Evers has made public comments that he supports fully legalizing marijuana. The first step towards that end is making medical marijuana available. In fact, the governor included funding in his state budget proposal to set up a medical marijuana infrastructure.
In addition, in the November 2018 elections, Wisconsin residents indicated that they would be in favor of loosening the restrictions around marijuana. Voters in the 16 counties and two cities that had advisory referendums strongly supported at least some form of marijuana legalization.
The referendums are non-binding and are meant to send a message to legislators about the public's views on the issue. However, some lawmakers remain unconvinced, and they want to see if the CBD oil legalization helps patients. They also want to see how states that have more permissive marijuana laws fare in terms of car accident and violent crime rates.
Contact a Milwaukee, WI Drug Charges Lawyer
As the law stands now, marijuana possession is a criminal offense in Wisconsin. If you do not follow the strict medical marijuana laws, possession of marijuana for treatment of a medical condition is illegal.
At the law firm of Gimbel, Reilly, Guerin & Brown, LLP, we provide a strong defense for clients who are charged with drug offenses such as marijuana possession. Let our experienced Milwaukee drug possession attorneys hear your story and review your case. Our firm can be reached at 414-271-1440.
Sources:
https://www.greenbaypressgazette.com/story/news/2018/11/07/marijuana-voters-want-pot-legal-medical-recreational-use/1888003002/
https://www.safeaccessnow.org/wisconsin_medical_marijuana_laws_and_regulations
https://www.jsonline.com/story/news/politics/2019/01/16/medical-marijuana-tony-evers-budget-likely-step-toward-legalization/2594419002/