Due to a sharp increase in the number of COVID-19 cases in Wisconsin, Governor Tony Evers has declared a new public health emergency in addition to the previous emergency declaration made on July 30. This surge in cases has mostly affected people between the ages of 18 and 24, including those on college campuses and who have attended social gatherings. To address these concerns Gov. Evers also issued an executive order requiring Wisconsin residents who are five years old or more to wear masks or other face coverings whenever they are indoors or in enclosed spaces with people other than those in their household or family. Here is Gov. Evers' press release: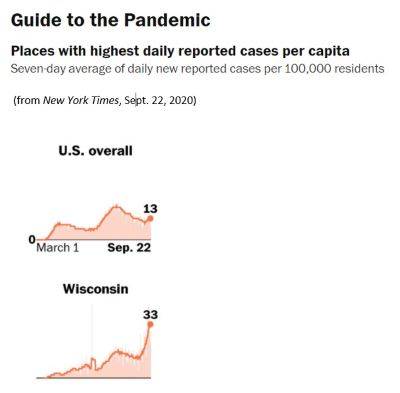 Gov. Evers Declares New Public Health Emergency Due to Campus Outbreaks, Issues New Face Coverings Order
MADISON — Gov. Tony Evers today declared a new public health emergency in Wisconsin due to recent surge in cases among young people and issued a new face coverings order effective immediately. Executive Order #90 is available here. Emergency Order #1 is available here. Both orders are effective immediately and will expire after sixty days or with a subsequent superseding order. The governor previously declared a public health emergency under Executive Order #82, which remains in effect.
...