Upcoming Events
3 Most Common Legal Concerns Faced by Small Businesses Lunch Event
WHERE:
Better Business Bureau of Wisconsin
10015 W Greenfield Ave
Milwaukee, WI 53214
WHEN:
Thursday, March 12, 2020
11:30 AM – 1:00 PM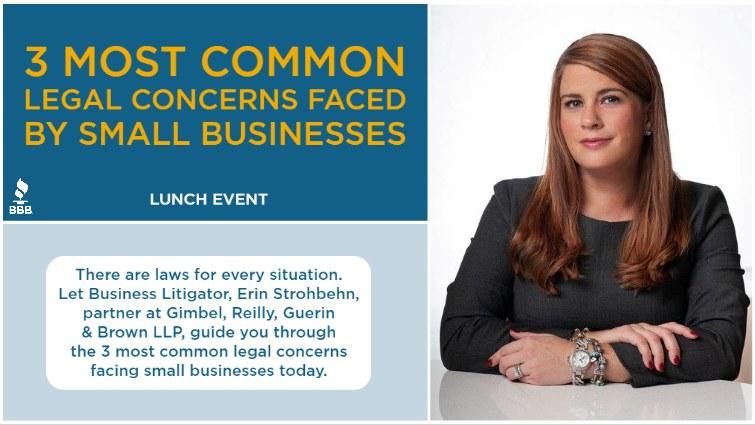 Facebook Event
Linkedin Event
---
Legal Q & A at LGBTQ+ Healthy Families/Healthy Communities Conference
Click here to read more
---
The Rise of CBD in Wisconsin: Ptifalls and Considerations
Presenters:
Jason Luczak, Gimbel, Reilly, Guerin & Brown, LLP
Emil Ovbiagle, OVB Law & Consulting, S.C.
With Hemp and CBD now legal in the state of Wisconsin, federal regulatory uncertainties still abound. The new legal landscape still leaves many questions unanswered. Navigating the legal landscape remains a challenge for businesses and consumers seeking to participate in the industry - from setting up legally compliant hemp-based businesses in Wisconsin to law enforcement concerns (given that marijuana is still illegal). Join our panelists as they explore some of the key legal and criminal law considerations for businesses and individuals looking to engage in this fast-moving industry.
---
Civil Trial Case Presentation: From Start to Finish
Gain the Benefit of Years of Courtroom Experience with These Case Presentation Techniques
Click here to Register
---
WALP 52nd Education Conference and Annual Meeting - May 3, 2019
Speaker: Bri Meyer
Topic: Etched in Stone: How Statements Can Help or Hurt Your Clients and How Technology Plays a Part in it All
Location: DoubleTree by Hilton, Milwaukee-Brookfield
Click here to Register
---
Increasing Access to Justice in Wisconsin: The State Bar's 2019 Grassroots Advocacy Priorities - January 17, 2019
A kickoff meeting, discussion, and meet and greet for the State Bar's legislative agenda

Light refreshments will be served. Spouses, companions, or colleagues working in the world of criminal justice are invited to attend with an RSVP.
WHERE:
Gimbel, Reilly, Guerin & Brown LLP
330 East Kilbourn Avenue, Suite 1170
Milwaukee, Wisconsin 53202

WHEN:
Thursday, January 17th, 2019
5:45 PM – 7:45 PM CST
Program begins at 6pm

Directions: Walk straight past the security desk on the left side of the rotunda when entering the center revolving door to find the Conference Room.

Parking: Underground parking is available until 6pm or in the parking structure ½ block south. Posted parking rates apply. Street parking is free after 6pm.

WHY: The Wisconsin legislature needs to hear from more voices, especially those practicing law, on why we need to prioritize and fund criminal justice reform.

RSVP/Questions/Comments: dmartin@wisbar.org
---
Do We Need a Lawyer Yet? - January 24, 2019
Join us for another BBB Breakfast Event in the new year. Business Litigator Erin Strohbehn, a partner at Gimbel, Reilly, Guerin & Brown LLP, will share strategies and tips for minimizing risk AND cost by identifying when and how to get attorneys involved in your business. Join us as Erin discusses general contracts and liability when it comes to companies and employees. Time for Q & A will be allocated.
Click here to Register
---
Jury Trials 101: A How-to Guide - February 13, 2019
Whether you are intimidated by jury trials or just wish to build your skills, this program is for you. Our trial veteran faculty will share simple yet powerful how-to's and tips that will help you win jurors over and stay in control. From asking the right questions during jury selection to thinking on your feet when evidence issues arise, gain the insights you need to handle your next trial with sureness. Register today!
Click here to Register
---
Leaders Converse: Corporate Ethics - February 19, 2019
Tuesday, February 19, 2019 @ 7:30 am - 9:30 am
UW-Milwaukee Student Union's Wisconsin Room (2200 East Kenwood Boulevard)
Join us for a lively discussion featuring a panel of local experts who will discuss maintaining a culture of ethical and moral decision making, even when the environment may tempt otherwise.
Panelists include:
Devona Wright Cottrell, Associate General Counsel & Director, Baird
Erin M. Strohbehn, Partner, Gimbel, Reilly, Guerin & Brown, LLP
Brandon Tschacher, Director of Marketing, Thrivent Financial, and Co-President, Echelon Milwaukee
Light refreshments will be provided, and parking is available in the UWM Student Union Structure. RSVP deadline is Wednesday, February 13th.
---
Greater Milwaukee Association of Legal Professionals - February 19, 2019
Speaker: Attorney Brianna Meyer
Location: Gimbel, Reilly, Guerin & Brown, LLP
Topic: "An Overview of Criminal Law Embedded with Technology"
---