Out and About with GRGB
Brianna Meyer, Newaukean of the Week
Read it here
Varied experiences ultimately lead Goudie to paralegal work
Read it here,in the Wisconsin Law Journal by Erika Strebel to find out more about Paralegal John Goudie.
Ray Dall'Osto Testifies on Behalf of The State Bar of Wisconsin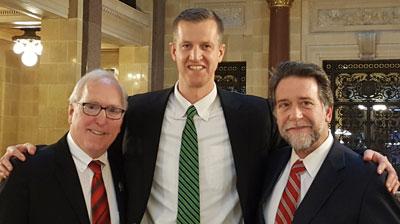 On December 20, 2017, Ray Dall'Osto appeared before the Assembly Committee on State Affairs, along with bill co-sponsors Rep. Kooyenga and Hebl, in support of AB 548. PIX Dall'Osto gave testimony on behalf of the State Bar of Wisconsin, urging legislators to enact AB 548, which would substantially increase compensation to exonerated persons for their past wrongful incarceration. Current Wisconsin law provides the lowest compensation rate in the country, i.e., $5,000 per year of incarceration, up to a maximum of $25,000. AB 548 would provide $50,000 per year of incarceration, up to $1 million.
Christopher Strohbehn writes article for The Verdict
Christopher Strohbehn's article has been published for The Verdict, outlining his experiences and ways of handling liability cases involving injuries occurring at bars and nightclubs.
Read it here - Should I Take A Case Against A Bar?