Milwaukee Physician License Defense Attorneys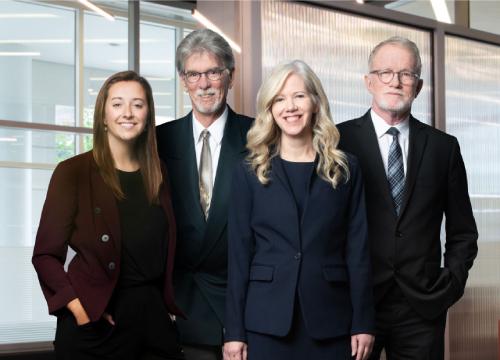 Attorneys Defending Medical Professionals in Wisconsin
When doctors or other medical professionals in Wisconsin are accused of engaging in unprofessional conduct, or when they face other issues that could result in discipline to their medical licenses, the stakes can be high. A medical license is essential for a physician to practice medicine, and any suspension or revocation of such a license can have serious consequences that will not only affect their career and their income, but also their professional reputation. When addressing these issues, it is important for medical professionals in Wisconsin to take the appropriate steps to protect their medical licenses from disciplinary action.
The attorneys of Gimbel, Reilly, Guerin & Brown, LLP have extensive experience helping doctors and other licensed professionals defend against disciplinary action. We understand the unique challenges faced by healthcare providers in Wisconsin, including the issues that could potentially lead to discipline and the steps that may need to be taken to protect a person's professional reputation. With our years of experience representing physicians throughout the state, we can provide comprehensive legal services tailored to meet each client's individual needs. From investigations by the state's medical board through disciplinary hearings or appeals, our attorneys will work with you every step of the way to ensure that your rights are protected and that you receive fair treatment under the law.
Investigations and Disciplinary Action by the Wisconsin Medical Examining Board
Physicians may need to respond to complaints by patients or others, or they may be accused of engaging in unprofessional conduct that indicates that they are unable to provide competent medical services or that they are likely to act in ways that would put patients' health, safety, or financial interests at risk. A doctor may be investigated and involved in disciplinary proceedings based on issues such as:
Providing incompetent medical services - Patients may complain that a doctor has provided substandard services, such as by failing to spend enough time examining patients and answering their questions, failing to properly diagnose patients' conditions, failing to order the proper tests, or providing improper treatment recommendations.
Unauthorized disclosure of confidential medical information - Doctors are required to follow HIPAA regulations when handling medical records. They may face discipline if they do not maintain the appropriate records or allow patient records or other information to be released without authorization.
Sexual misconduct - This involves any inappropriate behavior or contact between a medical professional and their patient, such as touching patients in an inappropriate manner, making suggestive comments or jokes, or divulging information about a patient's sexual history to others.
Drug or alcohol abuse - Physicians may be subjected to disciplinary action if they are found to be engaging in the use of illegal drugs or excessive alcohol use. An arrest for driving while under the influence of alcohol or drugs will also usually result in discipline to a doctor's medical license.
Failing to meet continuing medical education requirements - Physicians are required to complete a certain number of continuing medical education hours each year in order to maintain their medical licenses. If they fail to do so, they may be unable to renew their medical licenses.
Misrepresenting credentials - Doctors may be disciplined for making false statements about their medical credentials or qualifications, such as claiming to have medical degrees from schools that they did not attend. Doctors may also face discipline if they provide certain types of services to patients when they do not have the necessary education or experience to do so.
Controlled substance violations - When prescribing or dispensing drugs to patients, doctors are required to follow certain procedures and abide by all applicable state and federal laws related to controlled substances. Doctors may face disciplinary action if they write unnecessary prescriptions, prescribe controlled substances without adequately examining patients, or fail to follow the proper security procedures when handling controlled substances.
Discipline for medical professionals in Wisconsin may include the suspension or revocation of a medical license, a reprimand, probation, or other sanctions. The medical examining board may also require the doctor to complete an educational course or program, provide letters of apology, pay fines or restitution, or take other corrective measures in order to protect patients and ensure that the proper medical care is being provided. Our attorneys can provide representation before the Medical Examining Board and show that disciplinary action is not necessary, or we can advocate for appropriate forms of discipline that will allow a doctor to maintain their license and continue practicing.
Contact Our Milwaukee Doctor License Defense Lawyers
At Gimbel, Reilly, Guerin & Brown, LLP, we understand the stress and anxiety that can accompany a medical license investigation or disciplinary proceeding. Our team of experienced attorneys is here to provide you with sound legal advice and support in defending against any claims that you have engaged in unprofessional conduct or other behavior that could warrant discipline. We take the time to understand our clients' needs and provide personalized legal representation tailored to address each situation effectively. To learn how we can help defend against discipline to a physician's license, contact us at 414-271-1440.