Defending Wisconsin Healthcare Providers Against Criminal Charges
Meeting the Legal Needs of Healthcare Providers in Milwaukee and Waukesha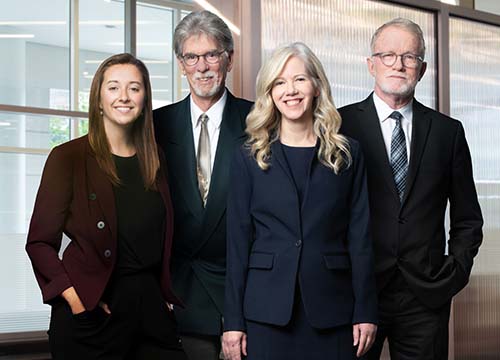 There are no single questions and answers for health care providers when legal issues threaten their employment, careers, licenses or liberty. Adverse results in one area can cascade into others with catastrophic consequences. Health care providers need lawyers who understand all the potential impacts of legal issues and are respected by both health system administration and the myriad of regulatory agencies that can negatively impact a health professionals present and future.
The Health Law Group at GRGB is uniquely positioned to represent, investigate, diffuse, defend and resolve such problems for health care entities and professionals. Recognized throughout Wisconsin as the "go to" firm for resolving serious health law issues, our clients are most often referred by influential health professionals and lawyers who recognize that health provider representation requires the special expertise, access and influence that GRGB provides.
Our attorneys provide healthcare defense to businesses facing any criminal charges. We can defend against accusations of fraud related to upcoding, overbilling or any violations of the False Claims Act. GRGB lawyers have defended the following cases:
Largest nursing home investigation in Wisconsin history resulting in a closed investigation without civil or criminal prosecution or penalties
Largest home healthcare agency investigation and prosecution in Wisconsin
Medical transport companies and equipment manufacturers and suppliers from claims of Medicare and Medicaid fraud, violations of the False Claims Act and program audits
Numerous nursing home investigations involving patient abuse and neglect
Physicians and other healthcare providers from claims of healthcare fraud and abuse, Drug Enforcement Administration narcotic violations and patient neglect
Served as local counsel in national investigation of international pharmaceutical companies involving allegations of fraud, price fixing and other consumer violations
We have the skill to take on these complex charges and fight to preserve the reputation of your business.
Representing Healthcare Businesses in Civil Litigation
We represent healthcare businesses in all types of civil litigation, including claims related to fraud or overbilling. Some of these claims may have to be handled side by side with criminal investigations. Our experience allows us to do this.
We also defend healthcare providers, particularly nursing homes, against abuse and neglect lawsuits.
Our team can handle all types of civil litigation for healthcare providers.
We are also available to handle healthcare law appeals.
More Than 50 Years of Healthcare Law Experience
Our lawyers are available to handle all legal needs that a healthcare provider, such as a nursing home, may encounter. That includes everything from formation to dissolution, including professional licensing and disciplinary matters.
At Gimbel, Reilly, Guerin & Brown, LLP, we are tireless. We finish everything we start. That's why the businesses we represent keep coming back to us for all of their legal needs. They know that when obstacles get in our way, we push through them. We push for results.
Contact Us for Powerful Representation in Healthcare Cases
Our lawyers will handle all healthcare law matters. Call us at 414-271-1440 or send us an e-mail.
Attorneys on our Healthcare Law Team: