Client Testimonials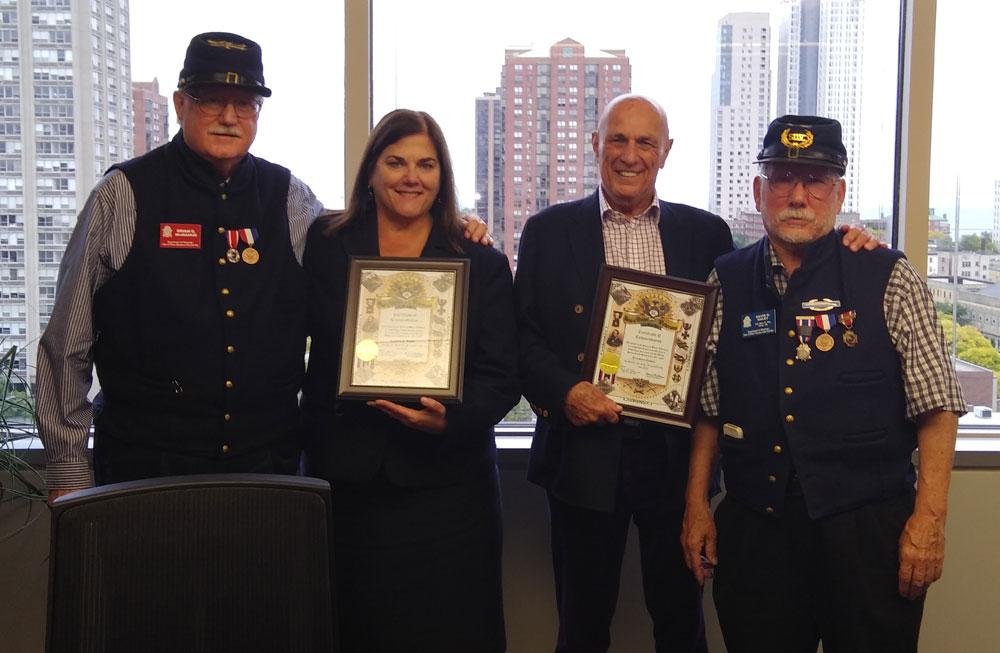 "The Sons of Union Veterans of the Civil War(SUVCW) cannot thank Frank Gimbel enough for the legal help he and his law firm gave us in our fight to clean up Luther Parker Cemetery in Muskego, Wis. Frank and Kathy Keppel, one of the attorneys in Frank's firm, Gimbel, Reilly, Guerin & Brown, LLP, worked for nearly two years on our legal challenge to the city of Muskego's refusal to mow a cemetery where three Civil War veterans are buried.
Our lawsuit against Muskego put a public spotlight on the shabby way Muskego is treating the graves of soldiers who died fighting for our country, and our legal challenge brought national attention to this issue. Frank Gimbel and Kathy Keppel have the eternal gratitude of our Civil War group for representing us in this just cause. Frank, Kathy and the Gimbel law firm represented us free of charge in a case that would have cost us thousands of dollars otherwise. May God bless them both.
The Sons of Union Veterans of the Civil War(SUVCW) is a national veterans organization made up of the descendants of the Union soldiers who fought the Civil War 150 years ago. The Sons of Union Veterans has more than 6,000 members across the country. The SUVCW's mission is to preserve the graves, monuments and memories of those Union veterans whose sacrifice in the Civil War gave us the country we enjoy today."


Dave Daley, Commander, Camp 15, Wind Lake, Wis., Sons of Union Veterans of the Civil War.
"GRGB and, in particular Max, Courtney and Jaclyn were absolute professionals. We are so pleased with their work, their process and the manner in which they handled our case. Would highly recommend Max!"

GRGB Client
Tom Brown is an excellent attorney and we very much appreciate working with him and his team. Truly a privilege. Thank you.

Attorney Steve Gennett
"So many of us are thankful for your team and that you have committed 50 years to helping Milwaukee grow stronger…stand taller and -- that there are many more years ahead, built on the firm's foundation of business success."

Joanne Blaesing
Member of the ALS Board
"I needed a Power of Attorney for my mother. This is the only place that quickly got back to me when I called. I worked with Attorney Erin M. Strohbehn. Helpful, prompt, it was a really great experience."

GRGB Client
"Please accept, and pass along, my sincere gratitude on behalf of Guest House of Milwaukee for the kindness shared through the gift of nourishment for those we serve in shelter as well as our neighborhood. Our partnership with United Way of Milwaukee and Waukesha County plays a vital role in allowing us to meet the evolving needs of our community. One, of the many, ways in which they do this is through advocacy for sandwiches and bag lunches through generous local business partners, like Gimbel, Reilly, Guerin & Brown, LLP."

Amy Rowell
Events & Outreach Manager
Guest House of Milwaukee
"I have known Mike Guerin for quite a few years now. He doesn't need someone like me to speak for him, but since I have the opportunity I will enthusiastically and completely endorse his work as a criminal defense lawyer."

John Carini
"Over the years, Ray and I have worked together on a number of cases. Every time I work with him, my respect for him grows. Ray is a lawyer's lawyer. He has an encyclopedic knowledge of the law, and is a tough, highly effective trial lawyer. Equally important, he is an enormously decent guy who is accessible to clients and respected by judges, opposing counsel and colleagues."

Hal Harlowe
"I endorse Raymond. He is a highly skilled attorney that is well respected in the legal community."

Michael Waddington
"I endorse this lawyer. Ray has been a beacon for criminal defense lawyers for years. I remember his editing of the criminal law newsletter from 25 years ago. Knows the law, and helps other lawyers. He is very excited by the law to this day, and he's been around a long time."

William Marquis
"Ray is a very skilled advocate in every sense of the word. It is his passion and sense of justice that make him so."

Karyn Missimer
"The entire law firm was extremely professional, prompt and made me feel very comfortable with everything they were doing. They explained everything step by step."

GRGB Client
"I have been working with Kathy since September 2016 and she is a fantastic attorney that really cares about her work product."

GRGB Client
"Denis has helped me with estate legal work, business law, and personal issues. I highly recommend him-he's excellent."

GRGB Client
"I have been working with Chris and he is a fantastic attorney. His strategic vision, affability and attention to detail allow him thrive in handling these complex cases that often overlap into multiple practice areas and venues."

GRGB Client
"Josh Gimbel's perspective and relative independence was extremely valuable. Attorney Gimbel has a great manner about him where he listens, understands and provides straight feedback in an amicable way. He really understands the people on both sides of the table and can distinguish between various personalities to figure out what is really happening. Whether its experience or intuition, it is a real gift to those Josh is working with."

Richard C. Gund, Executive Vice President
The Gund Company – St. Louis