Wisconsin Construction Litigation Attorneys
Construction Disputes Law Firm Serving Milwaukee, Racine and Waukesha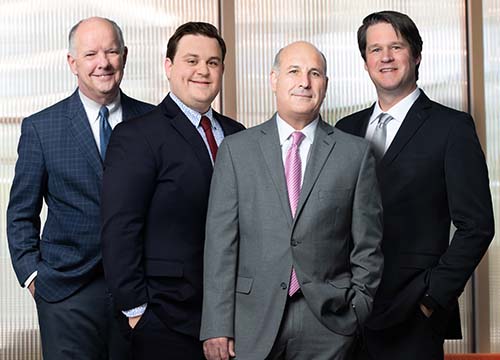 Serving Clients Throughout Wisconsin, including but not limited to Milwaukee, Waukesha, Ozaukee, Dane, Kenosha, Racine, Walworth and the other outer counties.

Allegations regarding construction defects, faulty materials, departure from blueprints, or breach of contract almost always involve technical issues requiring expert testimony and thorough preparation of the facts involved. At Gimbel, Reilly, Guerin & Brown, LLP, we consult engineers, architects, hydrologists, materials experts and surveyors in preparing and presenting construction litigation cases. If allegations of faulty construction are involved, we review blueprints, pertinent codes and regulations, and accept construction techniques to determine if violations occurred. If the quality of the materials used is at issue, we test samples of wood, concrete, plastics, or drywall using independent labs and materials experts. Since problems related to water damage or compromised structural integrity may have nothing to do with code violations and defective materials, it's essential to investigate allegations of construction defects.

Regardless of whether you are a homeowner, real estate developer, construction company or subcontractor, we have the knowledge and experience needed to help you. To schedule an appointment and discuss your case, contact Milwaukee, Wisconsin, construction litigation lawyers at GRGB today.
Construction Litigation, Faulty Construction, Defective Materials
The law office of GRGB represents clients in construction litigation cases involving the following:
Water damage, water intrusion
Defective flash paper
Defective sheet metal flashing
Cracking stucco
Absence of firestops between floors
Blueprints improperly followed
Code violations
Defective tucking
Poorly set or mixed concrete
Mold problems
Faulty electrical wiring, plumbing, or roofing
Defective shear walls
Our office also represents clients in regard to construction contracts and litigation that arise out of a breach or disagreement over the interpretation of state terms and conditions. We review "if paid" clauses and material cost adjustment clauses when disputes arise involving payment provisions.
Construction Litigation Between Contractors and Subcontractors
It's not uncommon for subcontractors to install electrical lighting, freezers, sprinklers, or heating and air conditioning units. As a result, when problems arise or damage occurs related to these systems, disputes regarding who is ultimately responsible are not uncommon. Once insurance companies get involved, opposing insurers may attempt to recover damages through subrogation, delaying payments or creating a financial strain on a construction company or subcontractor.
In many cases, our attorneys can help contractors and subcontractors resolve disputes through mediation. If differences can't be resolved through mediation, we are prepared to enter into litigation to defend our client's interests.
Allegations of construction defects or faulty materials involve issues unique to the construction industry. We have the knowledge and resources needed to address questions of workmanship, code violations, and the quality of construction materials used. To schedule an appointment and discuss your case, contact Milwaukee, Wisconsin, construction litigation attorneys at GRGB today.
Attorneys on our Construction Law Litigation Team: