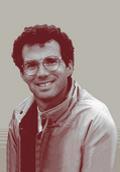 Jeffrey Alan Kaufman
Jeff Kaufman lived with Amyotrophic Lateral Sclerosis, also known as Lou Gehrig's disease, for an amazing 21 years. As time passed, he could not breathe on his own or speak aloud. He spent the last years of his life bedridden and communicating by moving his toe, grinding his teeth or blinking his eyes. Yet, although he could no longer lift a finger, he still could and did help others.

Born in Logan, Ohio and raised in La Crosse, Wisconsin, Jeff was athletic and active, taking home the state long jump title in his senior year at Central High School in 1974. (He still holds the school record at 23 feet.) Jeff obtained his undergraduate degree from University of Wisconsin-Madison, where he also was a long jumper.

Jeff graduated from Marquette University Law School in 1982 and joined the law firm now known as Gimbel, Reilly, Guerin & Brown, LLP. He quickly became known as a superb trial lawyer: "highly intelligent, creative, charismatic and sincere," according to firm founding partner Frank Gimbel. Terence T. Evans, a judge with the 7th U.S. Circuit Court of Appeals in Chicago, recalled: "When I was a district court judge in Milwaukee, he was one of the absolute best young lawyers who ever appeared in my court."

In 1989, a year after being named a partner with the firm, Jeff began to experience strange symptoms. The accomplished athlete began having problems jumping on a volleyball court, lifting himself out of the swimming pool, and holding a golf club, baseball bat or briefcase. He was diagnosed with ALS in late 1989.

Despite his diagnosis, Jeff had tremendous determination: to watch his children -- Nora, Ben, Sarah and Clare -- grow up and to find a cure for ALS. In the early 1990s, Jeff and his wife Jan became heavily involved with the ALS Association-Wisconsin Chapter. They were instrumental in ALS fundraising and joined the Board of Directors. A few years later, Jeff started the Chapter's Evening of Hope event. He was involved in all details of the event, from selecting speakers to suggesting auction items to approving arrangements for the event. The goal was money for research toward a cure. The Evening of Hope has raised millions of dollars.

In 1994, Jeff saw the movie The Shawshank Redemption, which is about a wrongly imprisoned man. The man gains freedom by slowly chiseling a hole through his cell wall for 19 years. Jeff's essay about how the movie inspired him, entitled "Digging My Own Tunnel," was published in Newsweek in September 1995. The essay led to a friendship with the movie's director and screenwriter, Frank Darabont, who has been an honored guest speaker and major benefactor of the Evening of Hope.

Jeff Kaufman led the fight against ALS by challenging old ways, taking chances and never giving up. He started the Evening of Hope event with the belief that he could change the world. And he did. As he stated in his Newsweek essay, "Hope can live as long as we're willing to dig. Even for 19 years." Jeff Kaufman dug for 21 years. We will continue digging in his name and memory until a cure is found.
Bar Admissions
Wisconsin, 1982
U.S. District Court Eastern District of Wisconsin, 1982
U.S. District Court Western District of Wisconsin, 1982
U.S. Court of Appeals 7th Circuit
U.S. Supreme Court
Education
Marquette University Law School, Milwaukee, Wisconsin

Honors: Marquette University Law School Alumnus of the Year

University of Wisconsin-Milwaukee
Published Works
"Digging Your Own Tunnel", Newsweek, September 11, 1995
Honors and Awards
Named One of "A Dozen Lawyers Who Do Justice to the Profession" by the Milwaukee Journal, 1986
Professional Associations and Memberships
State Bar of Wisconsin, Member