We're All In This Together: Legal Services are considered Essential Services under Gov. Evers' "Safer At Home" Order. Our attorneys and staff remain available by phone and email to assist you with all of your legal needs during this time of uncertainty. You can count on us to continue to perform the highest quality legal services and serve our clients as we have done since 1968. For more information, please visit our COVID-19 Client Safety Resource page at grgblaw.com.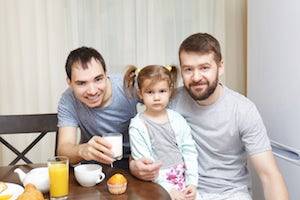 Child custody issues involving one or more LGBT parent have changed dramatically in recent years, giving this group of parents more rights and protections. Even with these great strides, there are still issues and circumstances relevant to LGBT parents.
Two common custody issues LGBT parents may encounter are:
Legal parents seeking custody or visitation; and
Non-legal parents seeking custody or visitation.
Legal Parents Seeking Custody or Visitation
In this situation, a parent who is either the biological or adoptive parent identifies as LGBT and is in a custody dispute with the other parent. This often occurs when the LGBT parent was in a different-sex marriage or relationship that produced children.
Unfortunately, the other parent may attempt to argue that sexual orientation has bearing on the determination of child custody. Under Wisconsin law, this is an irrelevant consideration, and the court may not factor sexual orientation into its decision.
The exception to this is if the LGBT parent's actions are directly harming the child. For example, a court may consider an LGBT parent's non-marital relationship that has a significant, adverse impact on the children. It should be noted that the possibility that a child will experience discrimination is not a valid consideration.
If you believe that a court impermissibly considered your sexual orientation when making a custody determination, you should seek counsel immediately. This could be grounds for appeal, which must be taken quickly. Our firm regularly appeals lower courts' decisions and is familiar with the procedural requirements and substantive arguments involved in seeking review.
Non-Legal Parents Seeking Custody or Visitation
In this scenario, a same-sex couple raising a child together may divorce, leading to a custody dispute. Typically, only one of the partners has a legal relationship with the children.
Under state law, the other spouse who had a "parent-like" relationship with the child may ask the court for visitation if the legal parent "substantially interferes" with their relationship. Wisconsin courts believe that children can experience harm if people who are functional parents are suddenly cut out of their lives.
Contact a Milwaukee, WI, LGBT Child Custody Lawyer
Having an attorney means that your rights under the law are protected and your best arguments will be presented to the court. Many people find that having an attorney increases the areas of agreement between the parties.
By working with a skilled family law attorney, you can be sure that the agreement between parents is fair to you. This may mean that you can avoid having a court determine the schedule by which you and your children will have to abide.
The compassionate Milwaukee LGBT child custody attorneys at GRGB Law can be reached at 414-271-1440.
Source:
http://www.nclrights.org/wp-content/uploads/2013/07/WI_Custody_FINALpdf.pdf