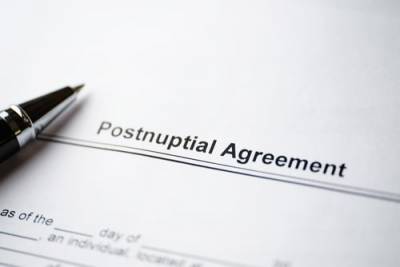 By: Attorney Max T. Stephenson
Most people are familiar with the concept of prenuptial agreements, which are signed by a couple before they get married and address how matters will be handled if they decide to get a divorce in the future. In many cases, a couple may not feel that they need this type of agreement at the time of their marriage, since neither spouse may own significant assets that would need to be protected. However, after multiple years of marriage, the issues that would be addressed in a prenup may become relevant, and either or both spouses may want to put protections in place if the possibility of divorce does enter the picture. In these cases, a couple may consider creating a postnuptial agreement.
When to Use a Postnuptial Agreement
As with a prenup, a postnup can address issues related to a couple's finances and property and make decisions about what will happen in a potential divorce. An agreement can specify that certain assets are separate property that one spouse will own following a divorce, or it can detail how different assets will be allocated between the spouses during the property division process. An agreement may also make decisions about spousal maintenance, such as by specifying the amount and duration of payments that one spouse will pay to the other following divorce or by waiving a spouse's right to receive spousal support.
...