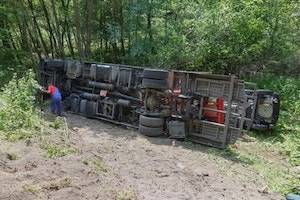 Due to their large sizes and heavy loads, semi-trailer trucks can present a major danger to other vehicles using the road. Even drivers and passengers in the largest SUVs or luxury cars with top-of-the-line safety features are likely to be injured in truck accidents, and this is especially true in cases when 18 wheeler trucks overturn.
According to the National Highway Traffic Safety Administration (NHTSA), there are more than 1,300 tanker truck rollover accidents in the United States every year, as well as 500 rollover accidents involving other large trucks. Fatalities result from 60 percent of these accidents.
If you have been in an accident involving the rollover of a large truck, you should note any details that could be used to explain the cause of the rollover, which can help establish liability for the accident and aid in recovering compensation for your damages.
...