New Program Tracks How COVID Relief Funds Are Spent in Wisconsin
The COVID-19 pandemic has had far-reaching economic impacts throughout the United States and Wisconsin. However, with funding assistance from the Federal Coronavirus Aid, Relief, and Economic Security (CARES) Act, Governor Tony Evers and his administration continue to invest in communities and industries throughout the state to promote resiliency and recovery. As of August 2020, the State of Wisconsin has launched a website allowing the public to see how these funds are actually being allocated to different assistance programs and initiatives. This continues Governor Evers' commitment to more transparency in government.
How Relief Funds Have Been Used
The Governor's Office reports a total of $1.72 billion in investment so far, with the following programs each receiving funding in the tens of millions or more:
Routes to Recovery local government reimbursement: Wisconsin has dedicated $200 million in relief funds to aid counties and tribes throughout the state in their response to the pandemic, including emergency operations, personal protective equipment, testing and contact tracing, cleaning and sanitation supplies, and sick leave for public health and safety employees.
Wisconsin Rental Assistance Program: This program provides up to $3,000 in assistance to eligible Wisconsin residents for the payment of rent and security deposits.
Hospital funding: This funding assists hospitals in their care of patients with COVID-19 as well as other medical conditions that require treatment in a hospital.
Healthcare provider payments: An investment of $110 million throughout the state helps ease the burden of emergency medical services providers, long-term care providers, and home- and community-based service providers.
Wisconsin Farm Support program: This program allows eligible Wisconsin farmers to apply for aid to relieve economic hardship and continue producing food that so many throughout the state and nation rely on.
Food Security initiative: This plan helps food banks and other nonprofit organizations continue to provide food for families in need while maintaining health and safety standards and prioritizing relationships with Wisconsin farmers and food producers.
Higher education funding: This investment helps colleges and universities cover expenses related to COVID-19, including increased remote learning and campus health and safety.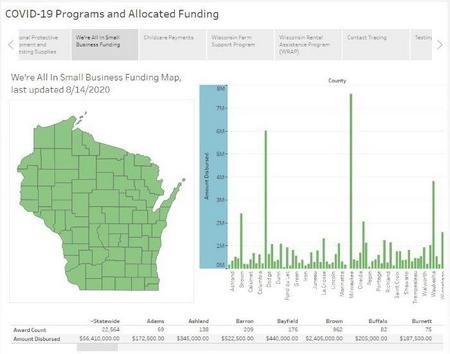 Wisconsin has also allocated relief funds to K-12 schools, small businesses, and childcare, and the state will continue to update the website dashboard with additional investments in the coming months.
Contact a Wisconsin Business Law Attorney Today
At Gimbel, Reilly, Guerin & Brown, LLP, we remain committed to a safe and healthy reopening of the economy in these unprecedented pandemic times. Our business attorneys are here to provide consultation and legal assistance to small and large businesses alike as they try to obtain necessary funding, PPP and other loans, etc. to meet the demands they face. We are committed to helping you maintain financial stability and keeping your business alive, and we understand the challenges you are facing. Contact a Milwaukee civil law attorney today at 414-271-1440.
Source:
https://doa.wi.gov/Pages/COVIDRelief-Investments.aspx