Coping With COVID-19
We Are All in This Together
The coronavirus (COVID-19) pandemic has had and still is having an unprecedented impact on people and businesses throughout Wisconsin, the United States, and the world. Its effects will continue to impact our lives and businesses, as well as public health, as Wisconsin and other states are reopening and coming out from shelter-at-home orders. Individuals, professionals and business owners will need to address a variety of legal issues and considerations related to and arising from the coronavirus pandemic.
At GRGB Law, our team of attorneys is doing their best to stay abreast of legal developments impacted by the COVID-19 pandemic. We are accessible to provide you with the legal help and consultation you need during these uncertain times and in the reopening process. We are prepared to help you find answers to your questions and solutions to the issues you are facing. If you have any questions, please do not hesitate to reach out to us at 414-271-1440 or contact us online.
Multiple Groups of People in Wisconsin Now Eligible for the COVID-19 Vaccine
As of March 1, the Wisconsin Department of Health Services (DHS) has announced that the following groups are eligible for the COVID-19 vaccine (in priority order):
Frontline health care personnel
Residents of long-term care
Police and fire personnel, correctional staff
Adults age 65 and older
Education and child care staff
Individuals enrolled in Medicaid long-term care programs
Some public-facing essential workers such as 911 operators and public transit and grocery store employees
Non-frontline essential health care personnel
Facility staff and residents of congregate living settings
While certain groups are prioritized, all of these groups are eligible for vaccination as of March 1. More information about these eligibility groups and where to find available vaccine is available on the DHS vaccine webpage. Wisconsin continues to be a national leader in COVID-19 vaccine administration.
GRGB Law Offers Support in the Fight Against Racism and Injustice
GRGB Law supports Governor Evers and the many other individuals and groups call for compassion, action and accountability to address the continuing problem of excessive use of force by law enforcement and overcoming systemic racism. For a half century, the lawyers at GRGB Law have fought in the courts as an advocate for everyone in our community. The firm's founder and its members have actively participated in the building, growth, and advocacy of this city that we call home. We try to look out for each other, and we mourn the tragic death of George Floyd and others who have been treated unfairly in any aspect, and we offer our support and services to those that need a hand in the midst of so much uncertainty. We have been and continue to be committed to being allies in the fight against systemic racism and injustice. We agree that together unified against hate and injustices, we are stronger.
We urge everyone who exercises their First Amendment rights to free speech and assembly, to protest and ask their government leaders for change, to do so responsibly and peacefully and in the spirit and manner of Dr. Martin Luther King. For those who want to become more informed and involved in meeting the challenges before us, we recommend the following resources: American Civil Liberties Union; Black Lives Matter; NAACP Legal Defense Fund; the Milwaukee branch of the NAACP; Wisconsin Association of African American Lawyers; Milwaukee Urban League; Official George Floyd Memorial Fund.
Read Gov. Evers' statement and Wisconsin Assembly Bill 1012, relating to use of force practices by law enforcement.
COVID-19 Blog Updates
We are regularly publishing updates to our blog about legal issues involving the coronavirus:
GRGB will post on this website the latest relevant announcements from Gov. Evers and other state and local officials. Here are the updates, with links to each order so you can read the specifics:
GRGB Provides Free Legal Helpline for Healthcare Providers
During the COVID-19 pandemic and now with the reopening of Wisconsin, our Health Law Group is providing a free legal helpline to those who work in the healthcare fields, answering questions about regulatory compliance and obligations and employment issues. The helpline is available from 6am-8am Monday-Friday, allowing workers to speak to us before a standard shift starts. Call the helpline at 414-534-8095 or send questions via email to bfrank@grgblaw.com.
Safer-at-Home Order Struck Down
The Governor's initial Safer-At-Home Order, issued by the Secretary of the Wisconsin Dept. of Health Services, was struck down by a 4-3 decision of the Wisconsin Supreme Court on May 13, 2020. Wisconsin Legislature v. Palm, et al., 2020 WI 42. Following this decision, which drew sharp dissents, different communities and regions throughout the state of Wisconsin may issue their own rules regarding stay-at-home requirements, social distancing, and operation of essential businesses, or no rules at all. As Governor Evers remarked after this controversial Supreme Court decision, which is one of a kind in among all 50 states, it is like the "Wild West" now.
The WEDC guidances that have been issued as part of the Badger Bounce Back effort are based on CDC recommendations from medical experts and scientists. While not mandatory, the WEDC guidances remain the safest and most responsible approach to take going forward. Given the patchwork of regulation vs. non-regulation now after the Supreme Court decision, as businesses begin to reopen, they are encouraged to review and follow the guidelines provided by the Wisconsin Economic Development Corporation (WEDC) and the recommendations of the Centers for Disease Control and Prevention (CDC), as well as local community health regulations for reopening.
Physical distancing, wearing masks, regular hand-washing, and disinfecting surfaces is the best common sense, medically proven means of reducing risk of infection as our state reopens. Who wants to get sick from going out to a restaurant or another public venue? If you have any questions about operating your business during the pandemic, our business law attorneys are available to provide you with legal help.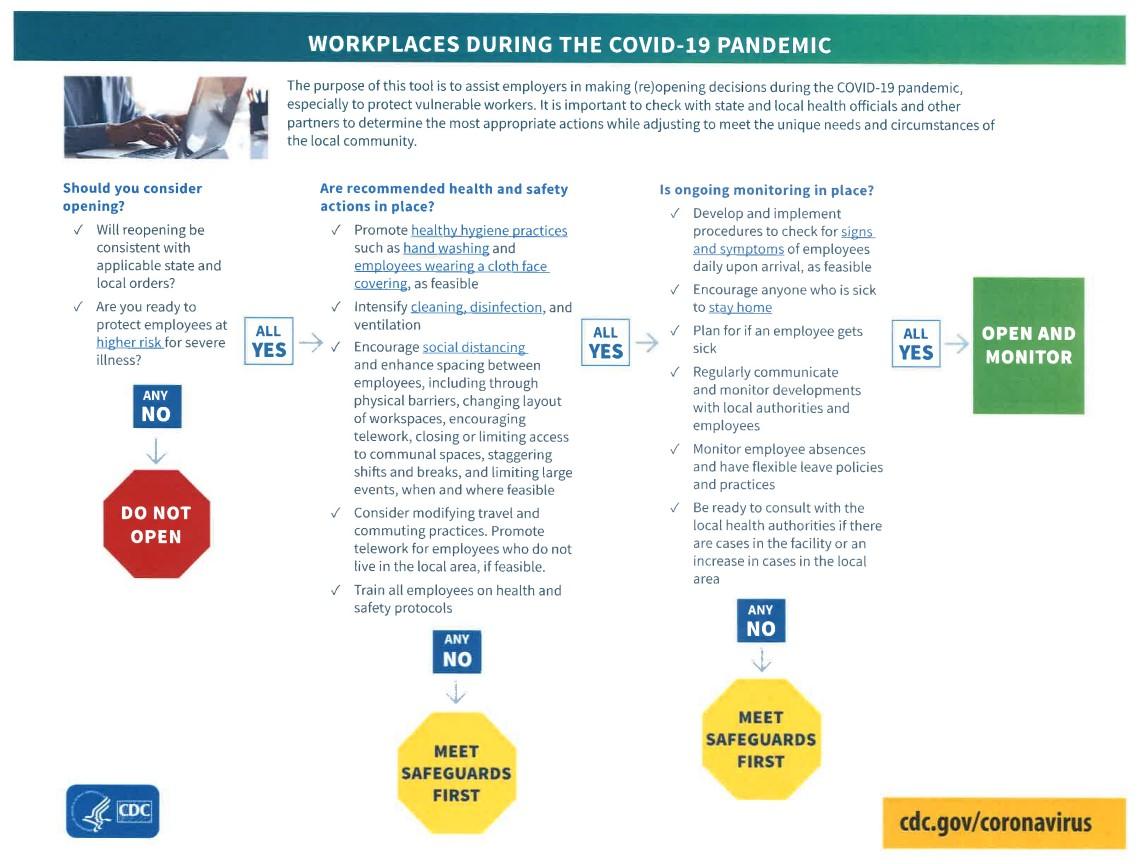 Watch Out for Coronavirus-Related Scams
The scammers, like locusts, are another plague that is upon us. The Federal Trade Commission (FTC) and the Wisconsin Department of Justice have identified a number of ways that scammers are attempting to take advantage of people during this emergency. These include calls or messages claiming to offer Medicare benefits or relief payments from government agencies, with the intent of obtaining a person's bank account information, credit card numbers, or other personal information. Other scammers may commit price gouging by selling necessary goods or services at overly high prices, or they may attempt to sell phony coronavirus cures or vaccines. Consumers should also take care when donating to a charitable organization and ensure that the charity is legitimate. Our attorneys can answer your questions about scams and other forms of white collar crime.
Mortgage Default Services
As people face financial concerns during the coronavirus pandemic, creditors may be wondering about their options in situations involving mortgage defaults. We can work with individuals, banks, and other creditors to help you understand your options regarding eviction or foreclosure, including helping you address local rules and regulations and determining the timelines that will be followed. We can assist with title claims, deeds in lieu of foreclosure, loss mitigation, loan modifications, and litigation involving evictions or bankruptcy. When pursuing creditor's rights actions, we will help you determine the best ways to resolve issues in a way that protects you financially without causing undue hardship to those who have been affected by COVID-19.
Professional License Defense
Those who work in the healthcare industry have faced the difficult task of treating patients who have been infected with COVID-19 while protecting their own health and safety. As the healthcare system strains under the burden of caring for victims of this disease, doctors, nurses, or other medical professionals may face claims that they have acted improperly or failed to follow the proper procedures. These concerns could lead to disciplinary action to medical licenses. If you have been accused of any violations or issues that may result in license discipline, our professional license defense lawyers can help you understand the steps you should take, and we will provide you with representation to ensure that you can continue working in the medical field.
Insurance Coverage Litigation
To address concerns about the spread of the coronavirus, many "non-essential" businesses are closing, and people are staying home whenever possible. This interruption of services is likely to affect business revenue, placing business owners in a difficult financial position. In some cases, insurance policies may provide business interruption coverage that will address loss of revenue due to COVID-19. Our attorneys can help review your policies and assist in filing claims, and if any disputes arise, we can provide representation in insurance coverage litigation.
Restraining Orders
Due to court closures, those who are seeking a temporary restraining order in cases involving domestic violence, abuse, or harassment must file electronically. Any scheduled hearings for restraining orders in Milwaukee County will continue to be held. Those who have filed a restraining order must attend their hearing, and failure to do so may result in the order being dismissed. If you need assistance filing a restraining order, or if you have had a restraining order filed against you, our family law attorneys can provide you with legal help and ensure that you are able to meet your legal requirements while maintaining your personal safety.
Evictions and Foreclosures
Wisconsin Gov. Tony Evers issued an order halting all evictions and foreclosures on March 27, 2020, for 60 days. In addition, the City of Milwaukee issued a Stay-At-Home order, and the State of Wisconsin issued a Safer-At-Home order. The State order was struck down in a 4-3 decision by the Wisconsin Supreme Court in May 2020. The City and County orders have been modified as the state begins to reopen. This checkerboard of orders and guidances may affect landlords' and tenants' activities, but landlords and tenants will be required to follow their obligations as defined in their leases. If you have any questions about landlord/tenant matters, foreclosures, or other real estate issues, our attorneys can help you determine the best way to proceed while these orders are in effect.
Other Legal Concerns Related to COVID-19
Our attorneys can also provide assistance in the following practice areas:
Contact Our Milwaukee, WI Lawyers
If you have questions about legal issues related to the coronavirus, the attorneys at Gimbel, Reilly, Guerin & Brown, LLP are here to help. We will continue to be available to you, and we can speak to you over the phone or via email. To learn more about how we can help, contact us at 414-271-1440. You can also contact our individual attorneys and paralegals via email or phone:
Attorneys:
Paralegals: