Deer Collisions on the Rise in Wisconsin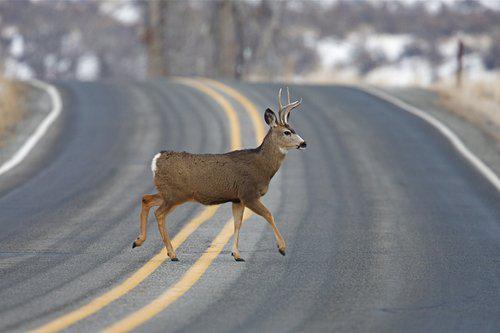 State Farm insurance recently released a study which shows that motorists in Wisconsin are more likely to
collide with a deer
than motorists in 44 other states. The national average of drivers hitting deer is one out of every 169 drivers, while the Wisconsin average is one out of every 77 drivers. According to the study, you are 10 percent more likely in 2015 to hit a deer on Wisconsin roads than in 2014, and since October and November are the months with the highest car/deer accident rates, now is a good time to review the steps you should take if you are in an accident involving a deer.
What Should You Do If a Deer Collides with Your Car?
Getting into a collision with a deer can be terrifying, and it is important not to lose your focus if this occurs, no matter how difficult it may be.  There are a number of important steps you should take if you are in an accident with a deer.
Move Your Car to Safety
We understand that if you are in a collision with a deer, you are most likely going to be quite shaken up afterwards. However, according to statistics, most collisions with deer take place early in the morning or at dusk and this is when it is most difficult for other cars to see you on the road. Therefore, the very first thing you should do if you are in an accident with a deer is to move your car safety. If your car will not move, at least move yourself to safety before taking any additional steps. Whether or not your car is safe to drive is another issue, and if it feels in any way compromised (or if your airbag deploys), you should take your car directly to your mechanic (or have it towed, depending on the extent of the damage).
Call the Police
If you are in an accident with a deer, it is important to call the police. This is true even if your car is not substantially damaged, and especially true if the deer is lying in the middle of the roadway. It is critical to make a report of what happened so that when you make a claim against your insurance company, there is already a police report containing your best recollection of the accident circumstances. If possible, it is also a good time to take photographic evidence of the scene, and if there were any eyewitnesses, try to get their contact information.
If You Are Injured, Seek Medical Care
Hopefully if you are in a car accident with a deer, you are not injured. Sometimes, however, injuries happen, especially whiplash type injuries from slamming on the brakes. If you think you have been injured in any way, you should go directly the emergency room to be checked over by a medical professional. Do not wait until minor aches and pains get worse – if you have any discomfort or pain after an accident, go to the emergency room.
Report the Claim to Your Insurance Company
This is the final step in the process, but it is important to be clear about your goals before placing the call, and to understand the insurance policy that covers you also covers accidents in your car. The insurance company always has the goal of minimizing any payments they have to make under the policies they issue, so it is important to be knowledgeable about what your policy covers and does not cover.
Conclusion
If you have been in an accident with a deer in Wisconsin, you may want to seek the advice of skilled Milwaukee car accident attorneys right away, so you are prepared to deal with your insurance company. The lawyers at our firm know how to deal with insurance companies and defense attorneys for the insurance companies in cases like this, so contact us today for a consultation.
Sources: http://dnr.wi.gov/topic/wildlifehabitat/cardeer.html