Common Mistakes People Make in Car Accident Claims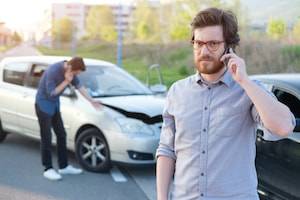 Being involved in a car accident can be a traumatic experience. The physical and emotional distress that a person experiences in a collision can make it difficult to keep a clear head in the immediate aftermath. As a result, many people make mistakes that affect their ability to recover compensation for the damages they have suffered. If you are involved in an auto accident, be sure to avoid the following:
Admitting fault - Common courtesy often leads people to take at least partial blame for a collision. However, doing so can make it more difficult to establish liability for the accident and recover compensation for your injuries. When discussing the crash with other drivers, police officers, or insurance company representatives, state the facts about what happened without admitting any fault.
Not receiving timely medical care - After an accident, it can be easy to shrug off your possible injuries, especially if they seem minor. However, it is important to receive medical attention as soon as possible. This will establish medical records documenting the full extent of your injuries, ensuring that you are able to recover compensation that will address your immediate care as well as any health complications related to the accident that may arise in the future.
Failing to file a police report - It may seem like a good idea to avoid involving law enforcement after a collision, but it is ultimately best to report the accident to police. Doing so will establish a record of the accident and ensure that it is not just your word against the other driver's.
Not gathering evidence - If possible, you should get as much information as you can about the accident to demonstrate its causes and who was at fault. Take pictures of the scene, speak to witnesses and get their contact information, and try to find out if the collision was captured on any nearby security cameras. This evidence can be crucial in establishing liability for the crash.
Providing information to the insurance company - Following an accident, you may be contacted by the other driver's insurance company and asked to give a recorded statement. It is best to decline to do so and have your attorney communicate with insurance companies for you.
Agreeing to a settlement without legal help - An insurance company may offer you a financial settlement that appears to cover some or all of your damages, and accepting this settlement will allow you to receive compensation quickly. However, it is likely that this type of settlement will not fully address your damages. Before accepting a settlement, be sure to have an attorney review your case.
Contact a Milwaukee Car Accident Attorney
If you have been injured in a car crash, the skilled attorneys of Gimbel, Reilly, Guerin & Brown, LLP can help you obtain the full and fair compensation you deserve. We will work to ensure that you are compensated for the costs of medical care, ongoing rehabilitation, property damage, lost income from missed work or disability, and pain and suffering. Contact our Milwaukee, WI personal injury attorneys at 414-271-1440 to arrange a consultation.
Sources:
https://www.cheatsheet.com/money-career/most-expensive-mistakes-people-make-after-car-accident.html/
https://www.marrickmedical.com/car-accident/
https://www.autotrader.com/car-shopping/5-mistakes-after-car-crash-can-cost-you-big-248952