What to Do After Pedestrian Hit and Run Accident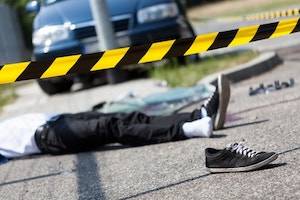 While it may be difficult to imagine hitting a pedestrian with a car and then driving away, this type of accident occurs with some frequency. In fact, the National Highway Traffic Safety Administration reports that nearly 20 percent of all pedestrian fatalities are hit and run accidents.
It may seem shocking that a driver would not want to help a pedestrian accident victim or render aid. However, many pedestrian-involved car accidents take place late at night, and alcohol is a common factor.
If you have been injured as a pedestrian or if you have lost a loved one to a pedestrian hit and run accident, a lawyer can help you get compensation for your injuries and losses.
Identifying the Fleeing Driver
One of the biggest obstacles in recovering from the at-fault driver in a hit and run is finding the driver. Any details about the car, anyone inside the car, or the direction the car was traveling can lead to the driver being identified.
Also, gathering the contact information of people who may have witnessed the accident can be important. In cases of severe injury or death, another option is to offer a reward for information.
In recent years, identifying drivers has become easier thanks to the proliferation of cameras at intersections and businesses. However, in order to obtain the footage to these cameras, you should work with police and your attorney quickly. In some cases, a court order may be required. In others, the footage may be taped over quickly if not promptly requested.
Calling the Police and Getting Injuries Treated
If you are the victim of a hit and run accident, you should report the accident to the police. In these cases, a driver is required by law to stop at the scene. Thus, fleeing from the scene could mean criminal charges for the driver. You also may be required to report the accident to police in order to file an insurance claim.
It is also important to seek immediate medical treatment. Not only is your health the most important consideration during this time, but getting prompt medical care will also start a record of the accident and your injuries.
A Milwaukee, WI, Pedestrian Accident Lawyer Can Help
Pedestrian accidents usually result in severe injury to the pedestrians involved. Just because the driver left the scene does not mean that you will be required to pay for your injuries. There may be several possible insurance policies that can be utilized.
Call the experienced Milwaukee pedestrian hit and run attorneys at Gimbel, Reilly, Guerin & Brown, LLP at 414-271-1440 to begin working with our firm today.
Sources:
https://one.nhtsa.gov/nhtsa/Safety1nNum3ers/august2013/theProblemAugust2013.html
https://docs.legis.wisconsin.gov/statutes/statutes/346/XI/70