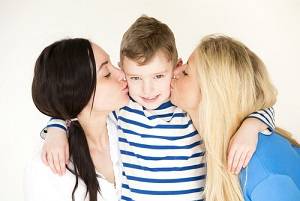 With the legalization of gay marriage nationwide, many couples have become interested in adoption as a way to build a family. It is estimated that two million LGBT people have a desire to adopt.
The most recent numbers show that there are 16,000 same-sex couples raising about 22,000 adopted children in this country. Moreover, there are about 594,000 same-sex couples in the U.S., and 115,000 of those households have children. Further, it is estimated that the number of children in the United States living with at least one gay parent ranges from 6 to 14 million.
Wisconsin Law on LGBT Adoption
Under Wisconsin law, a "husband and wife jointly, or either the husband or wife if the other spouse is a parent of the minor," or an "unmarried adult" may adopt a child. Thus, single individuals who identify as LGBT may adopt children. Additionally, Wisconsin allows a same-sex couple to file a joint adoption petition.
LGBT Stepparent Adoption
Another common type of adoption involves the natural born children of one of the same-sex spouses. The spouses typically feel as though they operate as a family unit with these children and want to make the arrangement official.
While there is no prohibition that would keep the same-sex partner from adopting a partner's child or a child of the relationship, this can be difficult. If the children's other parent is alive, it may be difficult or impossible for the adoption to go through. The first step in a stepparent adoption is a termination of parental rights of the other parent.
Termination of parental rights means that a parent's rights and duties to the child have ended. The person is no longer a parent who can make decisions about the child's life and the person is not responsible for the child.
Some parents will go along with a termination of rights, while others will fight the processes. Once parental rights are terminated, three additional steps must be taken:
A petition to adopt and order for investigation must be filed;
An investigation will take place; and
There will be a hearing in court on the adoption.
Call a Milwaukee, WI, LGBT Adoption Lawyer
The LGBT adoption process is rapidly changing throughout the country, including in Wisconsin. The Wisconsin Coalition for Children, Youth & Families recommends seeking legal counsel to ensure that LGBT families avail themselves of every right they have under law.
Our firm understands the unique hurdles faced by LGBT families interested in adoption and is also well-versed in Wisconsin adoption law. To set up your first meeting with the experienced Milwaukee LGBT adoption attorneys at Gimbel, Reilly, Guerin & Brown, LLP, call our offices at 414-271-1440.
Sources:
https://dcf.wisconsin.gov/adoption/become
http://wiadopt.org/Adopting/Adoption-for-Gay-Lesbian-Families
http://wiadopt.org/Portals/wiadopt/BrochuresBooklets/LGBTBrochure14Web.pdf?ver=2015-06-08-104809-243
https://www.lifelongadoptions.com/lgbt-adoption-resources/lgbt-adoption-laws/wisconsin
https://docs.legis.wisconsin.gov/statutes/statutes/48/XIX/82