Who Is at Fault When a Car Accident Occurs in a Construction Zone?
By Attorney Christopher Strohbehn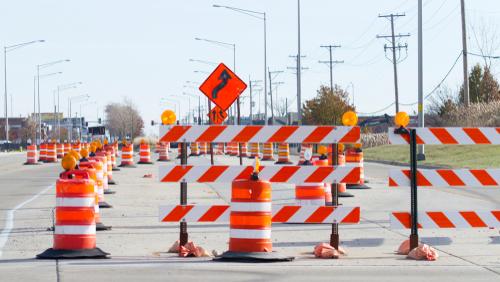 You may be driving on a road in a place where you travel all the time, when suddenly the road changes in some way due to construction. Construction zones pose significant risks to motorists, because they can unpredictably change a road, and drivers may be unsure about the proper ways to navigate these changes. In addition, construction zones can create dangerous roadway conditions if care is not taken to properly set up detours or closed lanes. Due to these factors, car accidents in construction zones are common. In fact, Wisconsin sees about 2,000 work zone accidents each year.
Causes of Construction Zone Wrecks
Every construction zone is different, and there are numerous ways drivers become involved in construction zone accidents. Some of these ways include:
Traffic may slow due to a reduction of the number of lanes of travel. An accident may occur if a driver does not notice that he or she needs to merge.
Traffic lanes can be too narrow to operate a vehicle safely or avoid a collision with another vehicle or a construction worker.
Detours may be confusing or frustrating to drivers, who then can get into a wreck.
Hazards or objects on the roadway from the construction site can lead to an accident when a car collides with an object or swerves around it and strikes another vehicle.
Drivers may drive too fast through a work zone, which typically has a reduced speed limits.
Can I Recover Damages for an Accident in a Construction Zone?
Because every accident is different, it is impossible to determine who is at fault in causing the wreck without a thorough investigation of the facts leading up to the accident. In a typical, non-construction zone accident case, one or more drivers are often found to be at fault.
An accident that takes place in a construction zone is different, because the construction company or the state may also be liable for the accident, either in whole or in part. In some cases, it may be proven that the construction zone did not meet specific industry-wide safety standards. For example, the construction company or the state may not have properly set up a detour, or they may have restructured the lanes too tightly.
Call a Milwaukee Car Accident Attorney Today
If you have been in a car accident that took place in a work zone, you need to speak to a trusted Milwaukee, WI construction zone accident lawyer. We can help you identify the party or parties who were responsible for the collision and make sure that you receive compensation that fully addresses your injuries. Call our firm today at 414-271-1440 to arrange a consultation.
Sources:
https://wisconsindot.gov/Pages/safety/education/workzone/mobiledeviceswz/default.aspx
https://wisconsindot.gov/Pages/safety/education/workzone/default.aspx