What is Considered Healthcare Fraud?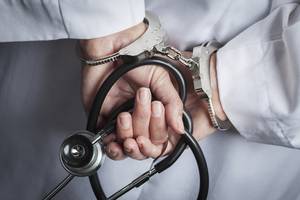 Healthcare is one of the largest industries in the United States with billions of health insurance claims being processed every year and trillions of dollars spent on medical care. The massive size of this industry and the complexity of insurance coverage and billing methods has led to prevalent abuse of the system as people and organizations seek to fraudulently enrich themselves. Healthcare fraud is common, and people should be aware of the possibility that they may face serious criminal charges if they commit this type of offense.
Common Types of Healthcare Fraud
Healthcare fraud can be committed by medical providers, patients, or other people or organizations involved in the healthcare system. Some common forms of healthcare fraud include:
Improper billing – Medical providers may bill patients for services which were not actually performed, or they may bill for services that were more expensive than what was provided (known as "upcoding"). Providers may also submit multiple bills for separate steps in a procedure in order to increase the costs of services (known as "unbundling").

Unnecessary medical services – A provider may inflate the costs of their services by performing treatments that are not necessary or by falsifying or misrepresenting a diagnosis to justify expensive procedures.

Kickbacks – Providers may receive improper payments or other types of rewards in return for referring a patient for certain types of tests or prescribing certain medications.

Identity theft – People who work for a medical provider, insurance company, or other organization may steal people's medical records and use this information to fraudulently obtain healthcare services or payments.

Doctor shopping – Patients may attempt to visit multiple doctors in order to obtain prescriptions for certain drugs, such as opioid painkillers.

False insurance claims – Patients may exaggerate or falsify symptoms in order to receive compensation for nonexistent medical expenses, or they may provide false information in an attempt to receive services for someone who is not covered under an insurance policy.
Contact a Milwaukee Fraud Defense Attorney
Healthcare fraud charges are very serious and can result in criminal prosecution as well as substantial civil fines. Depending on the nature of the charges, a person may be prosecuted at either the state or the federal level.
Healthcare fraud cases can be very complex so it is important for anyone facing fraud charges to work with a skilled attorney who understands both state and federal laws. The Milwaukee, WI criminal defense lawyers of Gimbel, Reilly, Guerin & Brown, LLP can provide you with the representation you need, working to protect your rights, your professional license, your financial interests, and your livelihood. Contact us at 414-271-1440 today.
Sources:
https://www.nhcaa.org/resources/health-care-anti-fraud-resources/the-challenge-of-health-care-fraud.aspx
https://enterprise.microsoft.com/en-us/articles/industries/health/the-most-common-types-of-healthcare-fraud/
https://legaldictionary.net/health-care-fraud/