The Dangers of Concussions in Bicycle Accidents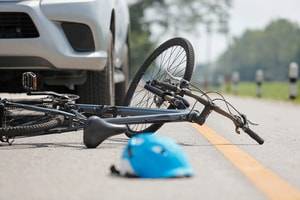 Bicycling is a great way for people to get exercise while traveling, whether riders are doing so for recreation or commuting to work on a daily basis. However, bicyclists are at risk when they share the road with cars, trucks, and other vehicles— bicycle accidents are likely to result in serious injuries for bike riders.
Bike Accident Statistics
As more and more people travel on Wisconsin's roads via bicycle, improvements have been made with the intent of increasing safety for bicyclists. While the number of injuries has decreased over the past few decades, there are still around 1,000 bicycle accidents in Wisconsin every year, and nearly every accident results in a bicyclist being injured or killed. In fact, in 2016, a bicycle accident resulted in the injury or death of a cyclist every 10.2 hours.
Bicycle accidents most often occur because the driver of a motor vehicle did not properly yield the right of way to a bicycle. Common situations that result in accidents include drivers not yielding to bicycles when making a left turn, passing through a controlled intersection, or turning right at a red light.
Bicycle Concussion Injuries
Bicyclists are likely to suffer a variety of injuries when they are struck by a motor vehicle, but traumatic brain injuries (TBI) are among the most serious. These injuries result from a blow to the head or body that causes the head or brain to move rapidly, and these types of injuries can cause damage to brain cells and even alter brain chemistry.
Cyclists can protect themselves by wearing a helmet while riding, but they may experience concussions even after taking these protective measures.
After an accident, a cyclist should seek immediate medical attention. However, the signs of TBI may not appear until days or weeks after an accident. Be sure to check for the following symptoms of a concussion:
Loss of consciousness;
Headaches;
Loss of memory;
Feelings of Confusion;
Slurred speech or difficulty speaking;
Nausea; and
Feeling tired or fatigued.
During recovery from a concussion, it is best to limit visual stimulation from sources like TVs and computer screens, avoid drinking alcohol or using other intoxicating substances, and wait to return to physical activity until symptoms no longer appear. Be sure to consult with a doctor if symptoms return or get worse.
Contact a Milwaukee, WI, Personal Injury Lawyer
If you have been injured in a bicycle accident, the attorneys of Gimbel, Reilly, Guerin & Brown, LLP can work with you to determine who was at fault for your injuries and help you receive the compensation you deserve for your damages, including the costs of medical care, lost income due to missed work, and pain and suffering. Contact our Milwaukee bike accident attorneys today at 414-271-1440.
Sources:
http://wisconsindot.gov/Documents/safety/education/crash-data/bicyclefacts-2016.pdf
http://blog.mapmyrun.com/handle-concussion-bike-accident/