Quick Tips on the Reality of Slip and Fall Accidents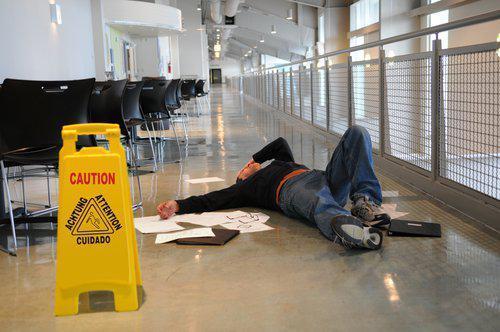 Although many Americans have voiced their opinions that there are too many reality shows on the air, the genre remains a solid staple on the airwaves. There is one particular, high-rated reality show which continually tests our societal consciousness as actors portray various scenarios that either evoke public compassion and action or blurred lines of indifference.
One of the most popular segments of this show is when an actor portrays a staged slip and fall accident in either a grocery or big box store. Although the actor is portraying a carefully crafted personal injury and ready to sue the host merchant, the show's host and his crew are privy to the fall and delight in exposing the various reactions. As the charade is exposed, we as the audience are enlightened as a large percentage of unsuspecting bystanders are quick to out the clumsy imposter but in all reality, these types of accidents can be quite serious.
The National Floor Safety Institute (NFSI) provides statistical data on slip and fall accidents, especially for our elderly citizens. Following is a sampling of the data.
Slip and fall accidents are the primary cause of accidental injury, presenting as the leading reason for all emergency room visits;
Slip and fall accidents appear to be equally divided among men and women;
Floors and various types of flooring composites contribute directly to more than 2 million slip and fall accidents per year;
Fractures are the most common aftermath of a fall and occur in 5 percent of all those experience a slip and fall accident; and
The chance of experiencing a slip and fall accident increases with each decade of life.
If you are the victim of a slip and fall accident, seek immediate medical care and then contact the skilled Milwaukee personal injury attorneys of Gimbel, Reilly, Guerin & Brown LLP. Serving clients throughout Milwaukee, Waukesha, Ozaukee, Dane, Kenosha, Racine, and Walworth, our dedicated legal team will obtain a fair compensation for your injuries. Contact us today at 414-271-1440 to discuss your case.
Sources:
http://today.com/id/9315503/ns/today-today_entertainment/t/survey-says-too-many-reality-shows/#.VjqxPm52Ndg
http://nfsi.org/nfsi-research/quick-facts/