Slip and Fall Accidents Can Cause Catastrophic Injuries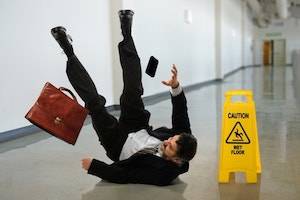 A routine trip to a shopping mall or supermarket can turn into a life-changing medical emergency due to fall hazards such as uneven flooring or wet walking surfaces.
These types of accidents are called slip and falls. Slip and falls can be caused by a lack of hand rails, missing warning signs, poor lighting, or unmarked steps.
Slip and fall accidents can cause grave injuries that can take months or years to heal. Some accident victims may never be the same. Unfortunately, the elderly are at an increased risk for falling accidents.
Common Injuries Sustained in a Slip and Fall Accident
According to the Center for Disease Control, one out of five falls causes a serious injury.
These injuries can include:
Torn tendons and ligaments. Such an injury can be painful for the slip and fall accident victim and may require months of treatment and rest to recover.
Broken bones. The arms, legs, and hips are the most vulnerable body parts during a slip and fall. Depending on the location of a break or fracture, rehabilitation work will likely be needed so that the accident victim can function again.
Head injuries. Falls are the most common cause of traumatic brain injuries (TBIs). The more research done on TBIs, the more science recognizes that the brain may never be the same after a brain injury—even one that seems minor at the time. The true extent of a brain injury sometimes only reveals itself after months and with professional diagnosis. It is important to be fully treated by a specialist and to not accept a quick insurance settlement if you believe that you have a brain injury.
Death. In the United States, falls are the third leading cause of accidental death. According the National Safety Council, 32,000 deaths were attributed to falls in 2014. If a loved one has died in a slip and fall accident that was the fault of another, you may be entitled to several classes of compensation related to the accident victim and related to your reliance on the accident victim for financial and emotional support.
Contact a Milwaukee, WI, Slip and Fall Lawyer
While slip and falls are common and can lead to serious injury, proving your case in court can be complex because in order to establish that another party is liable, an accident victim must prove that the property owner knew or should have known about the condition that caused the accident.
This element can be difficult to prove, especially without the assistance of an attorney. Our firm has successfully handled many slip and fall cases, and we understand what evidence must be gathered and what arguments the property owner will try to use against fall victims.
Call the accomplished Milwaukee slip and fall attorneys at Gimbel, Reilly, Guerin & Brown, LLP at 414-271-1440 to take the first step in getting compensation for you and your family today.
Sources:
http://www.nsc.org/NSCDocuments_Advocacy/Fact%20Sheets/Slips-Trips-and-Falls.pdf
https://www.cdc.gov/homeandrecreationalsafety/falls/adultfalls.html