Semi-Truck Crashes and the Future of Technology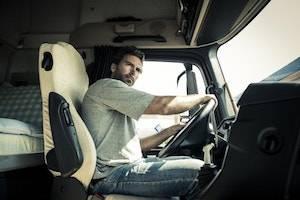 Due to the size and weight of an 18-wheeler, trucks are a huge risk for other vehicles on the road. In fact, when a truck is at fault in a traffic accident, hundreds of thousands of dollars in damages could be sustained.
With the huge potential for serious injury in truck accidents, the industry is turning to technology to make trucks safer.
Semi-Truck Accident Causes
The Federal Motor Carrier Safety Administration reviewed thousands of traffic accidents over the course of several years and determined four categories of driver error. Categories included the following:
Non-performance by the driver. This category describes accidents caused by a driver falling asleep at the wheel or experiencing a health condition that would render him or her suddenly unable to drive;
Recognition errors. These errors occur when a driver fails to observe the road. For example, a driver was inattentive or distracted;
Decision mistakes. This type of accident occurs when a driver misjudges a roadway situation, drives too fast, or drives too closely to other cars; and
Performance-related fault. This type of error can lead to accidents when a driver steers poorly or panics.
How Technology Can Make Trucks Safer
There are several new safety technologies for trucks that have been implemented or will be implemented on a wide-scale—technology which can address and correct some of these accident causes. Types of technology include:
Antilock braking systems;
Stability control;
Lane departure warning;
Collision avoidance systems;
Blind spot warning devices;
Interior cameras;
Rear view cameras; and
Side monitor cameras and sensors.
While each of these technologies comes with a price tag, trucking industry experts say that they will reduce costly accidents. For example, a lane departure warning system costs about $700. However, for accidents where there is only property damage, payouts can cost $100,000 to $200,000.
For accidents that result in bodily injury, a trucking fleet may be held responsible for $135,000 to $455,000 in damages. Accidents involving a fatality can cost $885,000 to $1.3 million.
Contact a Milwaukee, WI, Tractor-Trailer Accident Lawyer
Truck accidents tend to be complex. Moreover, significant injury or loss of life can result. Additionally, multiple parties may be at fault.
There are specific rules and regulations that trucks must follow and that accident victims must be familiar with in order to effectively seek an accident claim.
Our attorneys will pursue a victim's right to compensation to the full extent of the law. To contact the experienced Milwaukee large truck accident attorneys at Gimbel, Reilly, Guerin & Brown, LLP call 414-271-1440 today.
Sources:
http://www.truckinginfo.com/channel/aftermarket/article/story/2016/02/7-technologies-coming-your-way.aspx
https://www.fmcsa.dot.gov/safety/research-and-analysis/large-truck-crash-causation-study-analysis-brief