Non-Disclosure and Confidentiality Agreements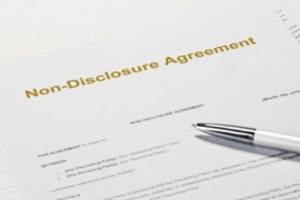 By Kenneth Baker and Denis Regan
Non-disclosure agreements have dominated headlines for the better part of 2018. A non-disclosure agreements (NDA) is a legal contract that creates a confidential relationship between the involved parties to protect information that is deemed confidential, typically proprietary information or trade secrets, from being publicly known.
The terms confidentiality agreement and non-disclosure agreement are used interchangeably, but in practice, they are used in slightly different circumstances. A confidentiality agreement is used when a higher degree of secrecy is required. Non-disclosure implies you must not disclose personal or private information while confidentiality implies you must be more proactive in making sure information is kept secret. This more aggressive approach involves actions such as putting restrictions on the use of confidential information, protection of electronic databases, preventing theft by employees, requiring sub-contractors to be bound by the same agreement, etc.
However, not all NDAs are lawful. The courts have found some agreements to be unconscionable and unenforceable, Gary Van Zeeland Talent, Inc. v. Sandas, 84 Wis.2d 202, 267 N.W.2d 242 (1978) (an agreement struck down because it contained no geographic or time limits). However, other similar agreements have been upheld in Wisconsin, and the termination of an employee for refusal to sign a non-disclosure agreement was upheld by a split court in Tatge v. Chambers & Owen, Inc., 219 Wis.2d 99, 579 N.W.2d 217 (1998) (the agreement did not violate Wisconsin's restrictive covenant statute, § 103.465, Wis. Stats.)
A confidentiality agreement is often used in litigation settlements during which both parties agree to settle the case and simultaneously agree to not reveal the contents of the settlement. In this instance, the parameters of the settlement will remain confidential between the two parties. Abuses of these agreements in sealing discovery in cases involving unsafe products and whistleblower suits frequently occur. See, J. Short, KILLING THE MESSENGER: THE USE OF NONDISCLOSURE AGREEMENTS TO SILENCE WHISTLEBLOWERS, 60 University of Pittsburgh Law Rev. 1207 (1999).
These types of agreements are utilized in business transactions in which one party is divulging private information to another party in exchange for confidentiality. Similarly, non-disclosure agreements are used to seal improper relationships or tortious conduct from the public. From Harvey Weinstein to Donald Trump, NDAs are used to keep secrets from the public. Harvey Weinstein preyed on aspiring actresses and sometimes compelled them to sign an NDA to keep quiet about the sexual encounters. In President Trump's situation, an NDA was drawn up between him and adult film star Stormy Daniels (although he never signed it) to conceal an extra-marital sexual affair alleged to have occurred in 2006. As consideration for keeping the secret, Trump's personal attorney Michael Cohen paid a lump sum of $130,000 to Ms. Daniels as hush money shortly before the November 2016 presidential election.
When someone violates a NDA, there may be a liquidated damages provision that is triggered, such as the recently publicized threat to seek millions of dollars in damages from Ms. Daniels. The liquidated damages provision in the Trump/Daniels agreement provides that she pay one million dollars for individual breaches of the non-disclosure agreement. The actual wording of the Daniels/Trump agreement and side letter are found in Exhibits 1 and 2 to Ms. Daniels' pending lawsuit in Los Angeles. See, http://tmz.vo.llnwd.net/o28/newsdesk/tmz_documents/stormy-daniels-sues-trump-redacted.pdf
Attorney Cohen has publicly stated that he paid the $130,000 in hush money out of his own funds. This payment was made just days before the 2016 presidential election, and this very large "in-kind" campaign donation was never reported. Under federal campaign finance regulations, an individual is only allowed to donate $2,700 worth of in-kind donations to a given candidate. According to former Federal Election Commission Chairman Trevor Potter, "It's a $130,000 in-kind contribution by Cohen to the Trump campaign, which is about $127,300 above what he's allowed to give." He expanded further saying, "If he does this on behalf of his client, the candidate, that is a coordinated, illegal, in-kind contribution by Cohen for the purpose of influencing the election, of benefiting the candidate by keeping this secret."
President Trump's legal team, as well as Mr. Cohen, have steadfastly denied that Mr. Trump has repaid Mr. Cohen for the hush money. If there was a repayment, the FEC might determine that it was not a donation, and therefore, Mr. Cohen could be off the hook. Cohen has stated that "The payment to Ms. Clifford (Stormy Daniels) was lawful, and was not a campaign contribution or a campaign expenditure by anyone."
In a recently filed lawsuit, Ms. Daniels' attorney claims that the non-disclosure agreement itself is unenforceable because Donald Trump never signed it. The lawsuit asks the judge to formally declare that either no agreement was formed, or that, to the extent an agreement was formed, it is invalid. President Trump's attorneys are now pressing to have this dispute sent to arbitration, which conveniently would be non-public.
If you have questions or need legal advice and guidance regarding confidentiality, non-disclosure, and non-compete agreements, whether in a pending case or in a business/employment context, contact the experienced Milwaukee business, real estate, corporate transactions, contract, and insurance litigation lawyers at GRGB — Denis Regan, Josh Gimbel, Russ Karnes and Chris Strohbehn at www.grgblaw.com.
Sources:
Amer. Assn for Justice, "Ethical and Legal Restrictions on Confidentiality Agreements and Sealed Documents" (2012)
https://www.americanbar.org/content/dam/aba/events/professional_responsibility/2015/May/Conference/Materials/public_justice_7a_ethical_and_legal_restrictions_on_confidentiality_ag%20%20%20.authcheckdam.pdf
J. Short, "Killing the Messenger: The Use of Nondisclosure Agreements to Silence Whistleblowers," 60 University of Pittsburgh Law Rev. 1207 (1999)
https://repository.uchastings.edu/cgi/viewcontent.cgi?referer=https://www.google.com/&httpsredir=1&article=2194&context=faculty_scholarship