Motorcycle Accident Prevention Is Every Driver's Responsibility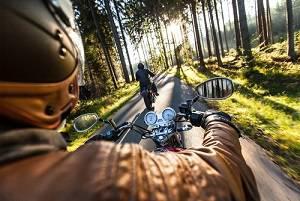 With spring's arrival and weather warming throughout many parts of the country, motorcyclists in some areas have already taken to the road. Even Wisconsin, where the temperatures still feel like winter, will start to see an influx of the two-wheeled vehicles quite soon. And that makes now the perfect time to remind all drivers that accident prevention is everyone's responsibility.
Just How Big is the Problem?
At first glance, the 2,000 annual motorcyclist deaths may seem like a far cry from the 30,000 fatal car accidents each year. If, however, a side by side comparison is made, motorcyclists are 16 times more likely to be killed in a crash and four times more likely to be injured. In fact, while only 20 percent of all car crashes cause an injury or fatality, the figure jumps to a staggering 80 percent for motorcycle crashes; mile for mile, they are at higher risk.
Safety Tips for Motorcyclists
Every rider should be aware of their risk and take personal responsibility for their safety. This includes obeying all speed limits, street signs, and following all applicable laws. Do not weave between cars and operate your motorcycle in a predictable fashion. Additional precautions include the use of proper gear – helmets, leathers, and closed toe shoes – and taking a motorcycle driving safety course. While none of these preventative actions are able to guarantee your safety, all combined factors can dramatically decrease your risk for accident, injury, and fatality.
Safety Tips for Cars and Trucks
More often than not, it is car drivers who are fault for accidents, not the motorcyclists. After the fact, car drivers will often say, "I didn't see them." Quite often, it is true. Our brains, which are looking for cars, often fail to recognize a motorcycle. Their narrow profiles also often hide them in blind spots where we simply cannot see. And, even when we do see them, they often appear further away than they actually are.
The "Look Twice for Motorcycles" campaign began as a way to increase awareness and improve safety for motorcyclists. All that it asks is for drivers to look left and then right, as they normally would at an intersection, and then look each way once more to check for motorcycles. While a simple concept, it is the most critical safety tip for car and truck drivers. With practice and consistency, it also becomes a regular habit that can save countless lives.
Victim in a Motorcycle Accident?
Because the risk of death and injury are much higher for motorcyclists, victims need skilled, experienced, and aggressive representation to ensure their rights, needs, and best interest are protected during a personal injury case. The Milwaukee motorcycle accident attorneys of Gimbel, Reilly, Guerin & Brown, LLP can provide these traits, and more. Lean on compassion and more than 40 years of experience. Call 414-271-1440 and schedule your consultation today.
Sources:
http://kdvr.com/2016/02/28/drunk-driver-kills-two-in-douglas-county-accident/
http://www.iihs.org/iihs/topics/t/general-statistics/fatalityfacts/state-by-state-overview
http://www.mva.maryland.gov/safety/motorcycle/ten-things.htm
http://www.nhtsa.gov/people/injury/pedbimot/motorcycle/safebike/approach.html