Most Common Motorcycle Accident Injuries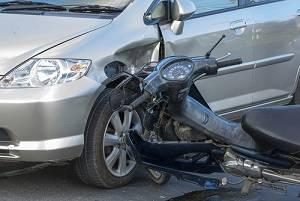 Even with the protection of gloves, leathers, helmets, boots, and safety goggles, motorcycle riders are at an extremely high risk for serious injury. This is due, in part, to the lack of encasement around them. However, they are also at an increased risk because, more often than not, other drivers simply do not see motorcycle riders. What injuries are riders most likely to sustain in a motorcycle accident? The Centers for Disease Control and Prevention (CDC) and National Highway Traffic and Safety Administration (NHTSA) have both conducted studies to find the answer.
Most Common Non-Fatal Injuries
Based on hospital records of 1,222,000 motorcycle crash victims, the CDC's study of non-fatal motorcycle crash injuries determined that the feet and legs of riders were most likely to be injured in a crash (30 percent of all injuries). However, in a very close second, injuries to the head and neck accounted for 22 percent of injuries. This includes injuries like traumatic brain injury (TBI, also known as a concussion), paralysis, whiplash, and others. Injuries to the chest, back, shoulders, hips, arms, pelvis, and other areas of the body made up the remainder of non-fatal injuries sustained by riders.
Most Common Fatal Injuries
Sadly, motorcycle riders often sustain life-threatening injuries. In fact, riders are 27 times more likely to die in an accident than car riders or drivers. More than half suffer injuries to multiple areas of their bodies, and even those that wear helmets are at risk. Indeed, a study from the NHTSA, which examined the death certificates of 8,539 motorcyclists who died in a crash, found that only 19 percent of riders not using a helmet had suffered a fatal head injury. In contrast, more than half of all riders suffered fatal injuries to multiple parts of their bodies, and of those wearing helmets, 57 percent died of multiple injuries. Clearly, helmets do save lives, but they do not always prevent a fatality.
Know Your Rights
If you or someone you love has been injured or wrongfully killed in a motorcycle accident, you have the right to pursue compensation. Unfortunately, insurance companies will do everything they can to deny you those rights, and they attempt to reduce any potential settlement. Protect your best interest and your legal right to fair and just compensation by contacting an experienced personal injury attorney.
At Gimbel, Reilly, Guerin & Brown LLP we understand how drastically a motorcycle accident can impact your life and the lives of the people you love. Backed by more than four decades of experience, we fight to protect your rights and get you and your family the compensation you deserve. To learn more about how we can help with your motorcycle accident case, contact our Milwaukee, Wisconsin motorcycle crash attorneys today. Call us at 414-271-1440.
Sources:
http://www.iihs.org/iihs/topics/t/motorcycles/fatalityfacts/motorcycles
http://www.nhtsa.gov/people/injury/pedbimot/motorcycle/safebike/anatomy.html
http://www.nhtsa.gov/people/injury/pedbimot/motorcycle/Motorcycle_HTML/overview.html
https://rideapart.com/articles/body-parts-will-likely-injure-motorcycle-crash