Milwaukee to Host the 2020 Democratic National Convention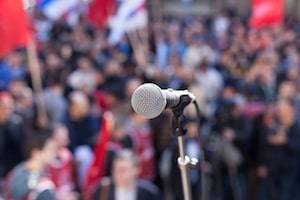 Recently, the news broke that the 2020 Democratic National Convention will be held in Milwaukee. City and state government leaders campaigned heavily to have Milwaukee selected as the location for the convention, which will bring an influx of visitors to the area and put Milwaukee in the national spotlight.
The convention will take place July 13-16, 2020, and Fiserv Forum will serve as the convention's hub. The key purpose of the convention is to vote on who will be the Democratic presidential nominee in the 2020 election. Conventions are also used as an opportunity for the party to solidify its positions on political issues as well as to boost morale.
Houston and Miami were among the finalists to host the DNC in 2020. Milwaukee has never hosted a major party convention, and this will be the first Democratic convention held in the Midwest since 1996, when Chicago hosted the event.
Why Milwaukee?
Democratic leaders said that Milwaukee's values mirrored that of the party's, highlighting Milwaukee's diverse population and strong ties to unions. In the previous presidential election, Wisconsin was won by Republican candidate Donald Trump.
Political analysts say that holding the convention in Wisconsin is one way to appeal to local voters in 2020. Democrats will need to win Midwestern states, including Wisconsin, in order to replace incumbent Donald Trump in the White House.
The Convention's Economic Impact
Local leaders anticipate that the convention will be an economic boon to the Milwaukee area. Approximately 50,000 people are expected to travel to the convention. This number includes delegates and their families, media, and tourists.
It is estimated that the event will bring about $200 million in economic impact to the area. Government officials noted that no state or city tax dollars would be used to fund the convention. As part of the selection process, Wisconsin officials told the Democrats that they had $11 million dollars in firm commitments from area businesses for the convention's operations.
Could Criminal Justice Reform Be on the Way?
The law firm of Gimbel, Reilly, Guerin & Brown, LLP is proud that Milwaukee has been selected to host the convention. The 2020 Democratic National Convention represents the opportunity to highlight the need for criminal justice reform in Wisconsin.
If you or a loved one has been accused of a crime, contact one of our knowledgeable Milwaukee, WI criminal defense lawyers by calling 414-271-1440. You can trust our team of qualified attorneys to represent you to the fullest extent of the law.
Sources:
https://www.jsonline.com/story/news/politics/2019/03/11/dnc-milwaukee-picked-host-2020-democratic-national-convention/2836684002/