4 Ways to Make Motorcycle Riding Safer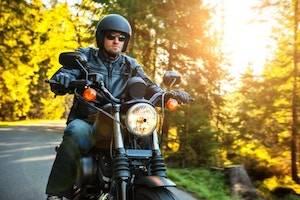 Riding on a motorcycle presents more risks than riding in cars. In fact, motorcyclists are 27 times more likely to die in an accident than car occupants. They are also six times more likely to be injured.
Despite the fact that motorcyclists are at greater risk for death or injury, they are not necessarily at fault when accidents occur. In fact, a National Highway Safety Administration (NHTSA) study from 2003 concluded that in 80 percent of accidents involving a motorcycle and a car, the motorcyclist was not at fault or was less at fault than the other driver.
Tips to Decrease the Likelihood of a Motorcycle Accident
While drivers who are involved in a car accident with a motorcycle may be at fault more often, motorcyclists should always be aware of safe riding practices. The NHTSA offers the following tips:
1. Follow all licensing procedures. Licensing procedures vary by state. In Wisconsin, motorcyclists must have a Class M motorcycle license or motorcycle instruction permit. A skills test or rider course is required for a Class M license.
2. Understand how to operate your motorcycle . When learning to operate a motorcycle, a motorcyclist should first practice in an area without traffic. A motorcyclist should also understand how to drive in a variety of weather conditions and how to maneuver around road conditions such as potholes and construction zones.
3. Keep the motorcycle in good repair. A motorcyclist should check tire pressure, brakes, headlights, and warning lights before each ride. Additionally, passenger riders should be instructed on basic safety techniques such as where and how to sit during transit.
4. Wear protective gear. Helmets are not required to be worn by motorcyclists over age 18 who have a Class M license. However, helmets do provide significant protection and can decrease the chances of injury or death. In 2013, three-quarters of those who were killed on a motorcycle in Wisconsin were not wearing helmets. Additionally, wearing protective clothing while riding is also important.
Contact a Milwaukee, WI, Motorcycle Accident Lawyer
If you have been injured in a motorcycle accident, having your case evaluated by a skilled personal injury attorney is the first step to getting compensation for your injuries. The experienced Milwaukee motorcycle accident attorneys at Gimbel, Reilly, Guerin & Brown LLP understand how to handle motorcycle accident cases to maximize recovery for those injured. Set up a consultation with an attorney at our firm by calling 414-271-1440 today.
Sources:
https://www.nhtsa.gov/road-safety/motorcycles
http://wisconsindot.gov/Pages/dmv/motorcycles/mc-how-aply/mc-md-lic.aspx
https://docs.legis.wisconsin.gov/statutes/statutes/347/III/485
http://wisconsindot.gov/Documents/safety/education/crash-data/motorcyclefacts.pdf