Licensing Issues for Milwaukee Veterinarians: Telemedicine Practices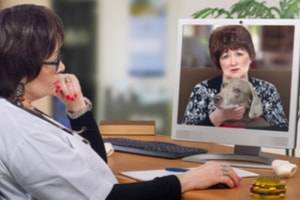 Modern communications technology has provided many benefits to people, including the ability to consult with doctors and medical providers remotely. Wisconsin veterinarians may also have plans to implement these types of services, but they should be aware of potential licensing issues that may arise when doing so.
Establishing a VCPR
One of the key issues for veterinarians who provide telemedicine services is the establishment of a veterinarian-client-patient relationship (VCPR). The Veterinary Examining Board may only discipline a vet in cases regarding his or her treatment of an animal if he or she had established a VCPR with that animal.
The primary question when it comes to telemedicine is whether a VCPR can be established remotely during a "virtual checkup." However, under Wisconsin law, a VCPR is established if a veterinarian has enough knowledge of the animal to make a general or preliminary diagnosis of its medical condition, and this knowledge is based on whether the vet has recently seen the animal via an in-person examination or is personally acquainted with the animal. This means that telemedicine services on their own are usually not enough to establish a VCPR.
Rules for Telemedicine
While the Wisconsin Veterinary Examining Board has not yet adopted rules for telemedicine, veterinarians will likely want to take steps to avoid potential disciplinary issues by following the rules for telehealth that have been issued by the Wisconsin Medical Examining Board. These rules include:
Definition of Telemedicine - These types of services include treatment or services provided via the exchange of medical information using electronic communication, not including audio telephones, text messages, or email. The method of communication must allow a doctor to meet or exceed the minimum competent standard of practice.

License - A doctor who provides telemedicine services in which he or she diagnoses and treats a patient must be licensed to practice medicine.

Standard of Care - Doctors must follow the same standards for telemedicine as for in-person visits, including meeting requirements for recordkeeping and confidentiality.

Diagnosis and Treatment - Doctors must obtain informed consent and perform a patient evaluation, including obtaining medical history and performing an examination or evaluation, before using telehealth services to diagnose or treat a patient. Recommendations for treatment or prescriptions for medication should not be based solely on static electronic questionnaires.
Contact a Milwaukee Veterinary License Defense Attorney
While telemedicine can be a great tool that provides benefits to veterinarians and their patients, vets should be careful to avoid using it in a way that could result in disciplinary action.
If you are facing the possible loss of your veterinary license, the attorneys of Gimbel, Reilly, Guerin & Brown, LLP can provide you with the representation you need before the Veterinary Examining Board. Contact a Milwaukee, WI professional license defense lawyer today by calling 414-271-1440.
Sources:
https://www.vetmed.wisc.edu/svm-alum-advances-vet-access-through-app/
https://todaysveterinarybusiness.com/the-state-of-the-vcpr/
https://www.healthcarelawtoday.com/2016/12/21/wisconsin-issues-new-and-improved-telemedicine-rules/