Healthcare Licensing Issues for Milwaukee Midwives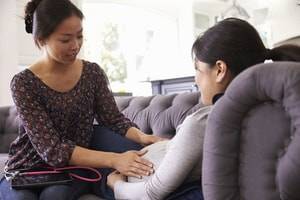 Midwives provide an essential service for many families, offering care before, during, and after the birth of a child. People who use midwives experience countless benefits, including a lower risk of the need for a cesarean section, a reduced risk of premature birth, and an overall higher level of satisfaction with the quality of care they receive.
Those who offer midwife services have made the choice to provide families with the care they need during what is often the most exciting time of their lives. However, midwives should be sure to understand their licensing requirements in Wisconsin and be aware of any issues that may result in discipline to their license.
Requirements for Obtaining a Midwife License
Before receiving a midwife license in Wisconsin, a person must obtain certification from either the North American Registry of Midwives or the American College of Nurse-Midwives. He or she must also obtain certification in the use of automated external defibrillators or provide evidence that he or she has received instruction in the use of these devices from an approved instructor.
Certain criminal convictions may disqualify a person from receiving a midwife license, including:
Sexual assault;
Sexual exploitation by therapist;
Incest;
Engaging in prostitution or soliciting or patronizing a prostitute; and
Possession of child pornography.
Potential Reasons for Disciplinary Action
The Wisconsin Department of Safety and Professional Services (DSPS) may reprimand a midwife or suspend or revoke his or her midwife license if they find that the midwife has engaged in any form of misconduct. Types of misconduct include:
Practicing midwifery while impaired by alcohol or drugs;
Abuse, harassment, or neglect of a patient that results in physical or mental harm;
Inappropriate sexual contact or behavior with or in the presence of a patient;
Discrimination on the basis of race, sex, religion, national origin, sexual orientation, age, or disability;
Disclosing patient information without authorization to someone who is not involved in the patient's care;
Gross negligence or inability to appropriately apply the skills and principles of midwifery;
False or misleading advertising;
Submitting false or misleading information on an application for a midwife license;
Failure to maintain adequate records; and
Any other conduct that does not meet the minimum standards necessary to protect patients' health, welfare, and safety.
Contact a Milwaukee, WI Midwife License Defense Lawyer
As a midwife, you provide your patients with the care and respect they deserve as they bring a new child into their family, and you will want to be sure that you can continue to offer this care to people that need it.
If you are facing a threat to your midwife license, you need a skilled advocate on your side who can help you avoid disciplinary action, allowing you to continue to offer your valuable services to families. At Gimbel, Reilly, Guerin & Brown, LLP our Milwaukee professional license defense attorneys will work to address and overcome any legal issues that may impact your midwife license. Contact us today at 414-271-1440 to arrange a consultation.
Sources:
https://dsps.wi.gov/Pages/Professions/MidwivesLicensed/Default.aspx
https://wisconsinguildofmidwives.org/midwives/standards-of-practice/
https://docs.legis.wisconsin.gov/statutes/statutes/440/XIII/982
http://americanpregnancy.org/labor-and-birth/midwives/