Fun the Water - Five Tips for Safe Boating in Wisconsin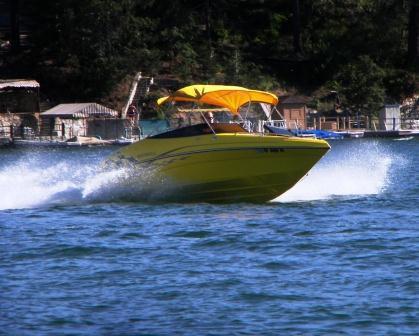 By Attorney Jason Luczak
Summer heat means fun on the many lakes and waterways in Wisconsin. While boating can equal family fun and great memories, it can also result in serious boating accident if you are not careful. The following article offers five things you should know before you head out on the lakes.
1. Age Requirements - Children under the age of 10 may not operate a boat under any circumstances. Children who are 10 or 11 may do so only if they are accompanied by a parent, guardian or adult 18 or older who is designated as a guardian. If a child ages 12-15 has completed a Wisconsin DNR boater's safety course they may operate a boat alone, otherwise a parent or guardian must be on board. Minors 16 to 18 must complete a boater's safety course.
2. Unlawful Operation of a Boat -The Wisconsin DNR states that the following operating practices are dangerous and illegal.
a. Negligent or Reckless Operation - Any activity that might impede the safety of individuals either on the reckless boat, another watercraft or in the water is considered illegal. Examples of this type of behavior include, jumping the wake of another vessel while towing an individual, operating in a designated swimming area, operating at high speeds in slow or no wake zones, weaving in congested waterways, creating a hazardous wake, steering toward another vehicle or individual in the water and swerving away at the last minute and chasing and harassing wildlife with the vessel.
b. Operating with a Person on Bow or Gunwale - If a person is seated in a place that could potentially result in being thrown overboard, they must move from that spot to another area on the vessel.
c. Overloading the Vessel - The boat operator must limit the vessel's load to the total weight or maximum number of persons recommended by the manufacturer (as shown on the capacity plate).
d. Improper Speed or Distance - Specifically, it is illegal to operate a vessel at an unsafe distance from another vessel, exceed the posted speed zones, Operate within 100 feet from a shoreline, operate at a high speed in a slow or no wake zone or operate within 100 feet from a swimmer unless assisting that swimmer.
e. Unsafe Conditions - this means that the vessel's condition makes it unsafe to operate in open waters.
3. Alcohol and Drugs - It is illegal for anyone to operate a boat or other water vessel under the influence of alcohol or drugs. This means their blood alcohol level cannot be greater than 0.08%.
4. Boating Accidents - In the event of a boating accident, the operator of the vessel must do the following:
a. If the accident results in death, injury or damage that exceeds $2,000 they must stop the vessel immediately, assist anyone needing help and provide name, address and vehicle identification information to anyone involved in the accident.
b. Provide an oral or written report.
c. Submit report to Wisconsin DNR within 10 days of the accident.
5. Considerations for Skiers - If you are towing a skier, the following rules apply to the vessel operator.
a. Towing a skier between sunset and sunrise is prohibited.
b. There must always be a spotter on board the vessel in addition to the driver to ensure the skier is safe.
c. Do not come within 100 feet of other vessels, persons in the water, swimming areas or public boat landings while towing a skier.
Fun the water is one of the many things that make the State of Wisconsin such a great place to live. Safety on the water is what makes boating and other activities enjoyable for years to come. If you have questions about the DNR Boating Rules and Regulations, take a moment to visit their website.
If you or someone you know has been injured as a result of a boating accident, contact your attorney or the experts and GRGB Law to find out your rights.