Excessive Force and Police Brutality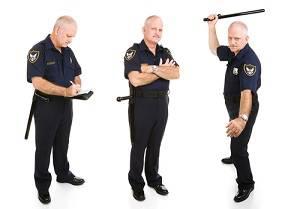 The viral YouTube video of a young Wisconsin woman's arrest has outraged a community and caused local leaders asking heavy and important questions. All parties want a review of the details. Law enforcement officials say one will be conducted, but such investigations often sway in favor of the officers on duty. That leaves the general population to decide for themselves whether or not racial mistreatment and excessive force were present in the recent arrest. On a wider scale, the arrest also calls into question the pervasiveness and persistence of these problems throughout the state of Wisconsin.
Details of the Arrest
After allegedly confronting a mall employee about a stolen cell phone, the slight-built 18-year-old was approached by mall security. She reportedly displayed a knife and threatened one of the security guards. Law enforcement was called to address the issue. Outside of the mall, the woman allegedly tried to leave after officers told her to stay. They then attempted to take her into custody, which she reportedly resisted against. That is when the madness ensued.
The video, which was taken by a witness outside of the mall, allegedly shows the young woman being forcefully taken to the ground during her resistance. She struggled, kicked, and reportedly spit in the face of one of the officers. In response, one of the arresting officers reportedly used his knee and fist to strike her several times. A Taser is then seen being used, possibly several times. A mesh bag is placed over her head to take her to the car, allegedly to stop her from spitting at the officers again. All the while, she is screaming. She was also said to have made complaints of not being able to breathe during the altercation.
Was Force Necessary?
Officers put their lives on the line each and every day. Most do only what they need to in order to increase their chances of making it home to their families after their shift is over. But was the force in this arrest really necessary? Although a knife was allegedly recovered from her person, is it plausible to believe she could have put the lives of two strong officers at risk? There is little information to go on, and much that goes on outside the scope of the camera, but one thing is certain: excessive force should never be used unless it is absolutely necessary.
The woman has reportedly been released on condition. She is to attend a program in exchange for time in jail. But what about the arrests that take place off-camera? What of the incidents of excessive force that go unreported? While authorities claim that incidents such as this only occur in about one percent of all arrests, there is little proof to corroborate that statement. Further, statistics on Taser threats against white and black suspects suggests a much higher incident rate of non-white citizens.
Protect Your Rights with Skilled Legal Defense
If your arrest involved excessive force, racial mistreatment, or any other injustices, it is critical that you seek skilled legal defense to protect your rights. Gimbel, Reilly, Guerin & Brown, LLP have more than four decades of experience in defending clients against their charges. Our experienced legal team is dedicated to helping you achieve the most favorable outcome for your situation, and we can take swift, immediate, and aggressive action on your behalf. To learn more about how we can defend you in your state or federal charges, contact our aggressive Milwaukee, Wisconsin criminal defense law firm. Call us at 414-271-1440 to schedule a confidential consultation today.
Source:
http://host.madison.com/wsj/news/local/crime-and-courts/outrage-grows-over-forceful-arrest-of-black-woman-madison-police/article_08dfc5de-1fd6-543e-b8e5-020e35c487c4.htm