I Was Convicted of Drug Impaired Driving in Wisconsin – What Now?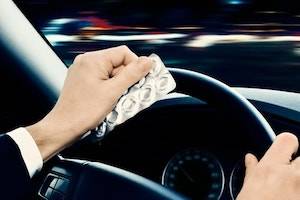 Drug impaired driving has gained the attention of law enforcement in recent years due to reports that drugged driving kills more drivers than drunk driving. Drug impaired driving charges are typically treated similarly to drunk driving OWI, however, there are differences.
Wisconsin Law on Drug Impaired Driving
Wisconsin law prohibits operating under influence of an intoxicant or other drug to a degree that renders the driver incapable of safely driving. The drug may be a controlled substance or a controlled substance analog. Also, Wisconsin law prohibits driving under the influence of a combination of drugs and/or alcohol.
Importantly, Wisconsin has a per se rule that prohibits a driver from driving if he or she has any amount of restricted controlled substance detectable by a blood test.
Penalties for OWI Convictions
If you are convicted of OWI for drugged driving, you will face several types of penalties. First, you will likely face a fine of $150-$300 and an OWI surcharge of $435. Your driver's license could be revoked for six to nine months; however, it may be possible to obtain an occupational license that allows for driving between home and school or work.
Finally, the driver will be required to undergo an assessment of alcohol and/or drug use. This is an interview between the driver and someone trained in substance abuse assessments who will determine what the next appropriate steps are and outline the steps in a driver safety plan.
For someone who the assessor determines was using drugs irresponsibly and does not have an addiction, the driver will generally be sent to a Group Dynamics-Traffic Safety program. Those drivers who have a dependency will likely be required to attend inpatient or outpatient treatment, depending on the level of addiction assessed.
Contact a Milwaukee, WI, Impaired Driving Lawyer
If you are facing charges for driving while impaired by drugs, a criminal defense attorney can help. Your case will be reviewed to determine whether police acted in accordance with the law and to ensure that you are being charged appropriately.
A criminal defense lawyer will also negotiate with prosecutors on your behalf to determine if you are eligible for any type of diversionary program that may keep a conviction off your record, which may mean that you are able to keep your driver's license.
Call the knowledgeable Milwaukee OWI charge attorneys at Gimbel, Reilly, Guerin & Brown, LLP at 414-271-1440 to meet with our firm.
Sources:
http://docs.legis.wisconsin.gov/statutes/statutes/346/X/63/1/a
http://wisconsindot.gov/Pages/dmv/license-drvs/susp-or-rvkd/assessment.aspx
https://www.drugabuse.gov/publications/drugfacts/drugged-driving
http://www.cnn.com/2017/04/27/health/drugged-driving-death-rates-report/index.html