Construction Zone Accidents Can Have Multiple Negligent Parties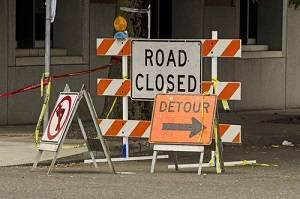 In the past five years, almost 4,500 people have been killed in construction zones, and more than 200,000 have been injured. Sometimes, construction zone accidents are the fault of one or more drivers. Other times, the construction company or an individual worker acted with negligence. Then there are those incidents in which more than one party is at fault. Such was the case in a fatal crash along Interstate 75 in Tennessee, where as many as four different parties are being accused of negligence.
Multiple Parties Accused of Negligence in Fatal Crash
In a crash that killed six people, four different parties could face consequences for negligence. The first party is the semi driver who was allegedly intoxicated when he slammed into the vehicles in front of him. Consequently, the trucking company is also being named as a negligent party because they reportedly knew that the driver had been over federal driving limits. The final two parties being named are the construction companies. Court documents allege that they had been working at a dangerous and unauthorized time and location and that they had failed to implement an effective traffic control plan.
Investigations Are Critical in Construction Zone Accidents
As highlighted by the tragic accident in Tennessee, there may be multiple parties responsible in a construction zone accident. Unfortunately, without a full investigation, one or more negligent parties may not be identified. (Note: This also applies to trucking accidents since they, too, can have multiple negligent parties.) As a result, victims may not receive full compensation, and they might experience unpaid medical bills, lost income, and accident-induced financial troubles. This is why it is crucial for victims to ensure they get skilled and experienced legal counsel after a crash.
Do You Have a Construction Zone Negligence Case?
It can be difficult to discern whether or not negligence was a factor in a construction zone crash without examining the case, but since the majority of crashes are caused by people (more than 90 percent), it is highly likely that someone is at fault. If you know that you acted responsibly and with great care, then there is the possibility that someone else may have caused the accident. To ensure you have a full investigation, and that your rights are protected, contact an experienced construction accident lawyer.
Our Milwaukee Personal Injury Lawyers Can Help with Your Case
Dedicated to your best interests and backed by more than 40 years of experience, our Milwaukee construction accident attorneys have the skills and knowledge needed to effectively represent you in your case. We strive to hold all negligent parties accountable and we will aggressively protect your right to compensation. To obtain the quality representation you deserve, call 414-271-1440 and schedule your consultation with Gimbel, Reilly, Guerin & Brown, LLP today.
Sources:
http://www.timesfreepress.com/news/local/story/2016/jun/24/new-charges-link-construction-negligence-fatal-i-75-crash/372797/
http://safety.fhwa.dot.gov/wz/resources/fhwasa03012/