Construction Accidents in Wisconsin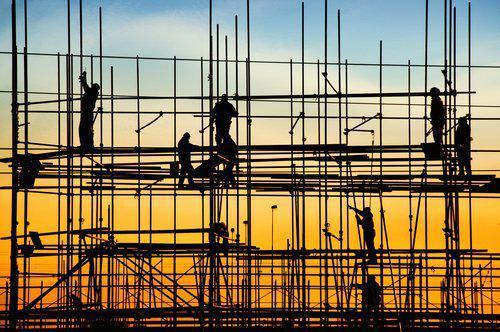 Regardless where a construction site is located, whether it is at a commercial building, private home or an interstate, it is usually a dangerous place to be. Construction work is dangerous because it is physically demanding and it is often performed outside, where workers are exposed to the natural elements. The terrain is not always even, weather is unpredictable and, very often, construction workers change surroundings frequently—they rarely work in the same place for extended periods of time. These factors alone can increase the likelihood of a construction-related injury.
According to the Occupational Safety & Health Administration (OSHA), the four leading causes of injury or death at the worksite across the United States involve falling, being struck by various objects, electrocutions and getting caught between structures or equipment. In the private sector alone, there were over 3,900 work-related deaths in a single year. Approximately 796 of those deaths were related to construction accidents and the leading causes identified above. The largest majority of construction-related deaths occurred due to falls.
In Wisconsin, there are over 95,000 citizens employed as construction workers. For every 100 full-time construction workers, 5.2 will sustain an injury or illness on the job. As recent as February 2015, a Milwaukee construction worker was killed in a construction accident involving construction equipment.
More often than not, construction accidents are the result of the negligence of a fellow co-worker or another contractor. When you suffer a construction-related injury, it is usually severe, due to the nature of the work and equipment involved. If you or a loved one suffered an injury, or even death, because of a construction related accident, you should contact an experienced construction injury attorney who will help you get the compensation you deserve.
Determining Responsibility
When you suffer an injury at a construction site, you will most often have to prove that someone negligently caused your injury. Determining liability at a construction site is very difficult. Depending on the size and complexity of the construction project, a variety of individuals could be liable. This includes the landowner, engineering professionals, general or subcontractors, management organizations and many others. Sometimes, figuring out who is required to be compliant with OSHA will determine who is responsible for your injuries.
If the injury was suffered because of the negligence or recklessness of a fellow co-worker or a different contractor, after determining liability, you would have to prove the traditional elements of negligence. This means that you would have to prove that the defendant owed you a duty of care, breached that duty, was the proximate cause of your injury, and you suffered damages because the defendant breached the duty of care owed to you.
Construction accidents are complex in nature, and sometimes they must be handled by the workers' compensation system if the employer is responsible. But, other times, they can be pursued through the court system if the injury occurred between co-workers or other contractors. When the construction injury or death resulted because of the negligence of a co-worker or a different contractor, pursuing action through a wrongful death or general negligence lawsuit would be appropriate.
If you or a loved one suffered an injury, or even death, due to a construction accident, you should contact an experienced
Milwaukee personal injury attorney
who will be able to help you navigate the complex waters of construction accidents.