Child Safety Tips for Avoiding Bicycle Accident Injuries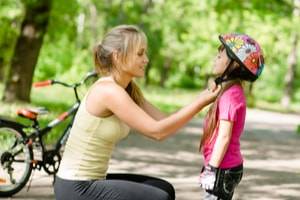 During the summer months, many people take advantage of the warm weather to enjoy time outdoors. Bike riding is a popular activity for families, but parents should be aware of the dangers that exist for children when using bicycles. Across the United States, nearly 630 children are injured every day in bicycle accidents. Collisions with larger vehicles can be especially devastating, and result in serious injuries, disability, or even death.
Bike Safety Tips
In order to protect children from bike accident injuries, parents should take steps to ensure they are safe when using bicycles, including:
Always wear a helmet - Bicycle helmets are the most effective way to reduce the chances of head injuries and death in a bicycle accident. Parents should use the right size helmets for children and make sure the helmets fit correctly. A helmet should stay on the top of the head in a level position, and straps should fit snugly and comfortably around a child's chin when buckled.

Use the right equipment - Children should use bikes that are the right size; when sitting on a bicycle's seat, their feet should be able to touch the ground. Parents should also make sure bicycles are maintained, including keeping tires inflated and ensuring brakes and gears work properly.

Follow the rules of the road - Parents should be sure children understand the rules of bicycle safety and how to share the road with others. Make sure to always ride on the right side of the road, traveling in the same direction as traffic. Use hand signals when turning or stopping, and obey signs and traffic signals. Make sure to always look both ways when entering or crossing a street.

Supervise bicycle use - Children should be closely supervised until parents are sure that they can ride safely on their own. Typically, children should ride on sidewalks and bike paths until they are 10 years old, and parents should be sure they watch for vehicles in driveways and people or objects that may be obscured by trees, bushes, or fences.

Be careful when riding at night - When biking at dusk or after dark, it is important to be sure that bikes have the proper reflectors or headlights, so they are visible to drivers. Wearing bright, reflective clothing can also improve visibility.

Model good behavior - Children learn from observing their parents, so it is important for parents to wear helmets, follow the rules of the road, and use the right safety procedures, thus demonstrating the behaviors that children should follow when they ride bikes.
Contact a Milwaukee, WI Personal Injury Attorney

Even when parents and children follow all the correct safety procedures, bicycle accidents are sometimes unavoidable. If you or a family member have been injured in a collision with a motor vehicle, you should be sure to understand your options for recovering compensation for your injuries. At Gimbel, Reilly, Guerin & Brown, LLP our Milwaukee bike accident lawyers can provide you with the representation you need and help you receive the financial compensation you deserve. Contact us at 414-271-1440 to schedule a consultation.
Sources:
https://wisconsindot.gov/Pages/safety/education/bike/crash.aspx
https://www.safekids.org/tip/bike-safety-tips
https://www.childrenssafetynetwork.org/topics/bike-safety