Avoiding Drunk Driving Charges During the Holiday Season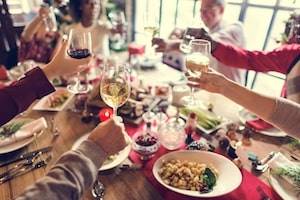 During the holiday season, you will likely have many occasions to celebrate with friends and family. When you drink alcohol at these parties, it is best to avoid getting behind the wheel of a vehicle. You should do everything you can to ensure that you are not one of the many who will be arrested for OWI (Operating While Intoxicated, the official charge for drunk driving in Wisconsin) during the holidays.
Alcohol Consumption by Holiday
According to Alcohol.org, the average number of drinks consumed on Thanksgiving is 2.7. The average number of drinks consumed on other "winter holidays" is 3.1. New Year's Eve is one of the booziest holidays for Americans, as the average number of drinks consumed on that day is 4.4.
Tips to Avoid Driving Drunk
The National Institute on Alcohol Abuse and Alcoholism, one of the organizations that make up the National Institutes of Health, offers the following tips:
Make a plan. Before you leave your house for a holiday party where you expect to drink alcohol, you should make a plan for how you will get home. Such options may include designating a driver, using a taxi or rideshare service, or relying on public transportation.
Drink water or other non-alcoholic beverages. Drinking water between alcoholic drinks can slow down the pace of your alcohol consumption. In addition, other fluids may decrease the rate that alcohol is absorbed into the body and minimize your blood alcohol concentration. It is important to note that drinking coffee will not counteract the effects of alcohol on your brain and body.
Eat food. Food can slow the rate of alcohol absorption, and it may be able to reduce the body's alcohol levels by as much as one-third. It can also minimize the irritation of the stomach and intestinal system the day after drinking.
Contact a Milwaukee, WI DUI/OWI Defense Attorney
If you or a loved one has received an OWI, you should seek out the advice of an attorney. If it is the first OWI you have received, you may be eligible for a program that would keep a conviction off your record. If it is not your first arrest, you need an attorney to make arguments on your behalf as to whether you are guilty and what your punishment should be. In addition, you must act quickly to request an administrative hearing that may help you avoid losing your driver's license.
At GRGB Law our seasoned Milwaukee, WI DUI defense lawyers have helped many accused of OWI successfully navigate the Wisconsin courts in resolving these charges. Call us today at 414-271-1440 to learn more about what we can do for you.
Sources:
https://pubs.niaaa.nih.gov/publications/RethinkHoliday/NIAAA_NYE_Fact_Sheet.htm
https://www.alcohol.org/guides/booziest-holidays/