Avoiding Car Accidents and Staying Safe During Winter Weather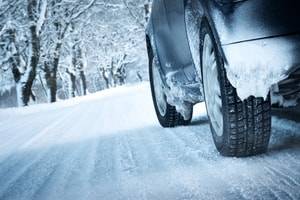 As the winter season begins in earnest, many of us are preparing for snow, ice, and cold weather. Along with having warmer clothing ready and making sure that our homes' heating systems are in working order, it is also important to be aware of the increased danger of car accidents that drivers face when driving in winter conditions.
Top Causes of Winter Car Accidents
Every year, more than 1,300 people die and more than 116,000 people are injured in car crashes that occur on roads that are snowy, icy, or slushy. These conditions can make roads especially dangerous, and accidents often occur because of:
Icy roads - Ice can often be difficult to see on roads, especially when it covers the road in a thin layer. This type of "black ice" is very slippery, and drivers often do not account for it during winter weather, leading to accidents when they are unable to stop or turn in time.
Low visibility - Blizzard conditions can make it hard for drivers to see other cars and pedestrians, especially at night. Even when the skies are clear, snow buildup can make it difficult to judge distances or see people, vehicles, or objects.
Vehicle maintenance - Cars with worn tires will be more difficult to control when driving in ice and snow, and faulty headlights, windshield wipers, or defrosters can decrease visibility, leading to an accident.
Distracted driving - Taking one's attention off the road to check a cell phone or adjust the radio is dangerous in the best of conditions, but this type of momentary lapse in attention can be even more deadly when driving in winter conditions.
Winter Safety Tips
Consider the following ways drivers can be prepared for winter road conditions, avoid accidents, and stay safe on the road:
Slow down when driving on snowy or icy roads, ensuring that you will have enough space to stop or turn. Make sure to leave plenty of room between your car and other cars.
Make sure your car is winterized and in good working condition, including checking the treads on your tires, the levels of your oil, antifreeze, and windshield wiper fluid, your battery, and your headlights.
Fully clear snow off your windshield, windows, and headlights before driving. Keep an ice scraper and a brush or small broom in your car so you can remove snow or ice wherever you go.
Check weather conditions and visibility before driving, and avoid driving when visibility is poor, if possible. If you must drive in these conditions, do so slowly and carefully.
Make sure your cell phone's battery is charged before driving, or keep a charger in your car.
Keep your gas tank full. This will not only ensure that you have enough fuel to reach your destination, it will prevent your fuel line from freezing.
Keep an emergency supply kit in your car that includes blankets or sleeping bags, extra sets of clothing (including winter hats, gloves, and socks), high-energy snacks, bottles of water, a flashlight with extra batteries, jumper cables, and a first-aid kit.
Tell friends or family members when you will be driving, your planned route, and when you expect to reach your destination.
Contact a Milwaukee, WI, Car Accident Attorney
If you have been injured in a winter car accident, the attorneys of Gimbel, Reilly, Guerin & Brown, LLP will thoroughly investigate the causes of the crash and work to help you receive the compensation you need as you recover from your injuries. Contact our experienced Milwaukee car accident lawyers today at 414-271-1440.
Sources:
https://ops.fhwa.dot.gov/weather/weather_events/snow_ice.htm
http://www.disastercenter.com/guide/winter.html
https://www.accuweather.com/en/videos/accuweather-ready/leading-causes-of-winter-car-accidents/xoegnyote6repmkzi8u6xoy-acqxca3f
https://www.accurateautoins.com/3-most-common-causes-of-winter-car-accidents/