5 Common Causes of Distracted Driving in Wisconsin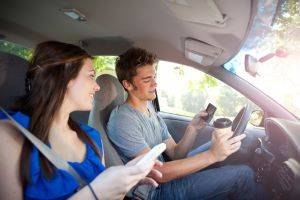 Distracted driving is a major issue throughout the United States, contributing to more than 400,000 injuries and almost 3,000 deaths each year, according to the National Highway Traffic Safety Administration. In Wisconsin alone, distracted driving is a factor in over 24,000 annual car accidents, accounting for roughly 20 percent of all crashes. If you are injured by a distracted driver, understanding some of the common causes of distracted driving may help you make the case for the driver's negligence.
What Behaviors Lead to Distracted Driving?
A variety of different behaviors can occupy a driver's eyes, hands, or mental processes in a way that prevents them from fully attending to the task of driving and increases the risk of an accident. Some of the most common issues include:
Using a cell phone. Phones and other mobile devices are perhaps the most well-known cause of distracted driving. Texting while driving is illegal in Wisconsin, but any form of handheld cell phone use can also be dangerous.
Adjusting vehicle controls. Attending to the radio, GPS system, air and temperature controls, or any number of other features included in newer vehicles can remove a driver's focus from the road for enough time to cause an accident.
Interacting with passengers. Talking to a passenger or checking on a child in the back seat may also affect a driver's ability to attend to the road. This can be a significant issue for younger drivers and their peer passengers or for parents driving with children.
Eating or performing other handheld tasks. Eating, drinking, personal grooming, and reaching for objects in the vehicle can occupy a driver's hands in a way that may prevent them from driving to the best of their ability, and these behaviors can sometimes take a driver's eyes off of the road as well.
Looking at objects outside the vehicle. "Rubbernecking" at the scene of an accident, admiring an animal or roadside attraction, or otherwise paying too much attention to external objects can negatively impact a driver's attentiveness to traffic, pedestrians, or obstacles in the road.
Personal Injury Claims Involving Distracted Drivers
Drivers who succumb to distractions can be considered negligent if the distraction causes an accident that results in injuries to another person. This means that if you are injured, you have the ability to pursue compensation from the distracted driver. Your attorney can help you collect evidence and witness testimony that may demonstrate the driver's distraction and strengthen your case for receiving compensation for your injuries.
Contact a Milwaukee Personal Injury Attorney
At Gimbel, Reilly, Guerin & Brown, LLP, we have significant experience with car accident cases involving all types of driver negligence, and we can help you get the compensation you need for your medical bills, lost income, and pain and suffering. Contact an experienced Milwaukee, WI car accident lawyer today at 414-271-1440.
Sources:
https://www.nhtsa.gov/risky-driving/distracted-driving
https://wisconsindot.gov/Pages/safety/education/drv-behavior/distracted-drv.aspx
https://zeroinwisconsin.gov/DistractedDriving/