Steven McGaver and Erin Strohbehn Promoted To Partner At Gimbel, Reilly, Guerin & Brown LLP, Milwaukee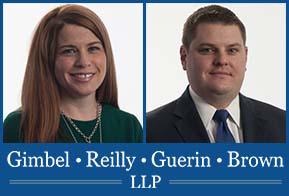 Gimbel, Reilly, Guerin & Brown LLP (GRGB) today announced that two of its associates, Steven C. McGaver and Erin M. Strohbehn, have been promoted to partner.
Steven McGaver joined the firm in 2002, beginning his GRGB career as a messenger and then transitioning to a law clerk position. Steve, a 2006 graduate of Marquette University Law School (cum laude), focuses his practice on criminal defense and general civil litigation, as well as licensing, municipal law and healthcare law.
Steve was designated as an "Up and Coming Lawyer," by the Wisconsin Law Journal in 2010, has been recognized as a "Rising Star" by SuperLawyers magazine every year since 2009 and is rated "AV Preeminent" by Martindale-Hubbell. Steve is also a past president and secretary of the Milwaukee Young Lawyers Association, has served on the board of the State Bar of Wisconsin Young Lawyers Division, and is an active member of several other community organizations.
Erin Strohbehn's practice focuses on civil litigation, employment law, business litigation and probate litigation. Erin began her career at GRGB in 2002, working as a college intern while attending Marquette University. After she entered law school, she transitioned into the role of law clerk. Upon her graduation from Marquette University Law School in 2006, Erin joined the firm as an associate.
Erin has been recognized as a "Rising Star" by SuperLawyers magazine each year since 2009. She is an active member of several Milwaukee area organizations and serves as the president of the Alumnae Board for her alma mater, Divine Savior Holy Angels High School. Erin is also a past chairwoman of the New Lawyers Section of the Wisconsin Association for Justice and her practice has been profiled by the Wisconsin Law Journal.
"Erin and I are thrilled to accept our new roles at GRGB, a place that we've called home for our entire legal careers. GRGB has been a part of the fabric of Milwaukee for decades, and we are excited at the prospect of ushering the firm into the future," Steve stated.
About Gimbel, Reilly, Guerin & Brown LLP
In 1968, after arguing some of the era's high profile cases as a federal prosecutor for the Eastern District of Wisconsin, Franklyn M. Gimbel founded Gimbel, Reilly, Guerin & Brown (GRGB). Frank's late brother, Stanley P. Gimbel, joined a year later, followed by former federal prosecutors Richard E. Reilly and Thomas E. Brown, and former Department of Justice Special Agent D. Michael Guerin.
The firm has continued to build upon this strong base of attorneys, adding the experience of Denis J. Regan, Kathryn A. Keppel, Patrick J. Knight, and Raymond M. Dall'Osto in the 1980s, and Christopher L. Strohbehn, Steven C. McGaver, Erin M. Strohbehn, Jason D. Luczak, and Max T. Stephenson in the 2000s.
Today, GRGB is recognized as one of the best trial and litigation firms in Wisconsin. GRGB attorneys have successfully represented individuals and businesses in a wide variety of cases, from white collar criminal investigations and serious criminal offenses, to personal injury and complex civil litigation, to family law and real estate matters.
The firm is located in downtown Milwaukee at 330 East Kilbourn Avenue, Suite 1170, Milwaukee, Wisconsin 53202. Steve McGaver, Erin Strohbehn and other GRGB attorneys can be reached at 414-271-1440 or via our online contact form.