Gimbel, Reilly, Guerin & Brown Named Best Milwaukee Law Firm Of 2023 By The Top Choice Awards And Featured In The Milwaukee Journal Sentinel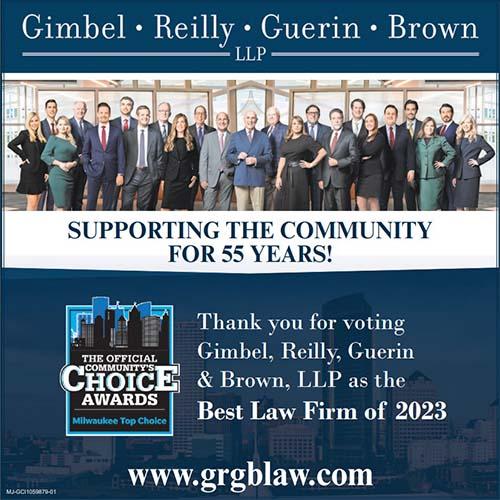 Milwaukee, WI — The Milwaukee, Wisconsin based trial and litigation law firm of Gimbel, Reilly, Guerin & Brown LLP (GRGB) is extremely proud to announce that the firm was named "Best Law Firm of 2023" by the Official Community Choice Awards, which is in partnership with the Milwaukee Journal Sentinel and LocaliQ. Each year, the Community Choice Awards polls local communities across the country to choose the best businesses and organizations in their areas. These awards celebrate and recognize the best the community has to offer. The firm began in the law firm category with the other area firms, advanced to the top 5 and ultimately was voted "Best Law Firm" in the community.
The award winners were featured in a special Sunday section of the Milwaukee Journal Sentinel.
GRGB Founder, Frank Gimbel, states, "It gives me a sense of great pride that the community that we value so much and have dedicated our work to has recognized GRGB with such an honor."
The firm congratulates all of their fellow honorees and is also celebrating their 55th Anniversary in 2023.
About Gimbel, Reilly, Guerin & Brown, LLP
Serving Wisconsin since 1968, Gimbel, Reilly, Guerin & Brown, LLP has earned a position of admiration in the legal community. The firm is known for its tradition of honesty and integrity, as well as the ability to achieve positive results in cases ranging from complex civil litigation to white collar crime investigations. GRGB has earned respect for passionate representation of their client's rights. The firm has been recognized in The Best Lawyers in America and has been named Super Lawyers and Rising Stars by Law & Politics. GRGB attorneys have served as Presidents of the State Bar of Wisconsin and the Milwaukee Bar Association as well as Chairmen of sections and divisions. For more information on GRGB and its lawyers, please visit www.grgblaw.com.