Gimbel, Reilly, Guerin & Brown LLP Welcomes Attorney Russell J. Karnes To Their Litigation, Business and Real Estate Team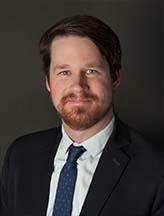 Milwaukee, WI — The Milwaukee, Wisconsin based trial and litigation law firm of Gimbel, Reilly, Guerin & Brown LLP is pleased to announce the addition of Attorney Russell J. Karnes to their civil litigation, real estate, and business law team. Karnes, a 2010 graduate of Marquette Law School, has joined the firm after coming from a local creditor rights law practice. Russ is licensed to practice law in Wisconsin and has made court appearances in nearly every County in the State. He is also admitted to the Seventh Circuit Court of Appeals, the Eastern and Western District Courts of Wisconsin, the Northern, Southern and Central District Courts of Illinois, the Northern and Southern District Courts of Indiana, and the Menominee Tribal Courts.
"Russell is a great addition to our civil litigation, business, and real estate departments," notes GRGB partner, Joshua Gimbel. "His experience across several practice areas make him the perfect addition to the diverse talents at the firm."
About Gimbel, Reilly, Guerin & Brown LLP
Serving Wisconsin Since 1968, Gimbel, Reilly, Guerin & Brown LLP has earned a position of admiration in the legal community. The firm is known for its tradition of honesty and integrity, as well as the ability to achieve positive results in cases ranging from complex civil litigation to white collar crime investigations. GRGB has earned respect for passionate representation of the client's rights. The firm has been recognized in The Best Lawyers in America and has been named Super Lawyers and Rising Stars, by Law & Politics. GRGB attorneys have served as Presidents of the State Bar of Wisconsin and the Milwaukee Bar Association as well as Chairmen of sections and divisions. Additionally, its attorneys have been named Fellows in the American College of Trial Lawyers (an honor bestowed on less than five percent of U.S. trial lawyers), and recognition as some of Milwaukee Magazine's Best Lawyers. Contact us today and fill out an online form or call 414-271-1440 to discuss your case.